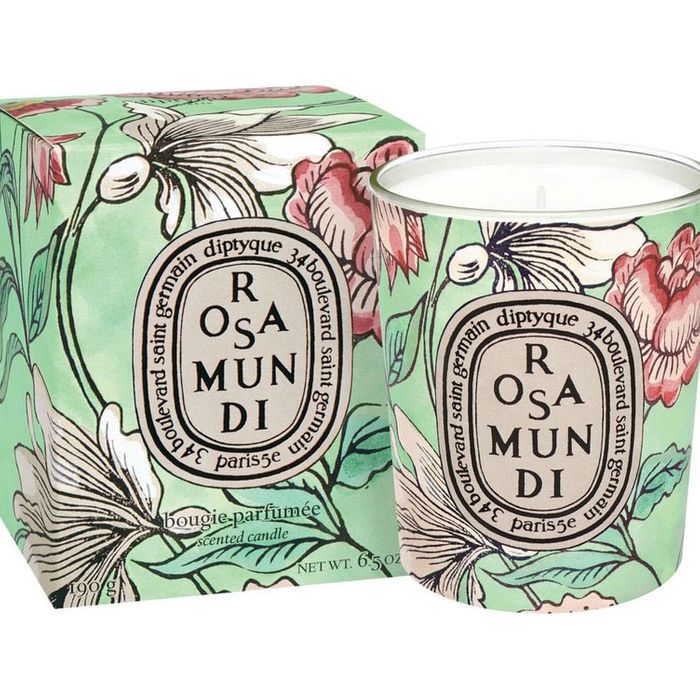 Naïvely, long ago, I considered it part of my job to personally try out every single candle that crossed my desk in our open-office floor plan. I burned a new candle every day for three weeks. While some of my co-workers loved the ambience forced upon them, others questioned the safety of having an open flame near all those flammable beauty products (they weren't wrong).

Had the fire warden not paid a visit to remind me that lit candles aren't allowed in the office (and gently suggested I do my testing in my own private space) I would be burning Diptyque's Rosamundi with abandon. Unlike most rose scents, which smell too girly and, frankly, too pink, Rosamundi smells new, earthy, and fresh. A combination of two roses (centifolia and damask) keeps it from smelling like one of those air-freshener tags you get at the car wash, and the addition of cedar and lychee prevent the perfume from being too sweet or cloying.
Of course, the secondary benefit of owning a fancy candle is burning it down and using it as a fancy container for your makeup brushes. Diptyque created an especially nice one this year, partnering with French artisans Antoinette Poisson to make a soft watercolor rose-plant print. It makes the vessel slightly translucent so that the light prettily flickers through as the flame burns. There's also a scented perfume oval (for your closet) and even scented paper for your drawers. Diptyque candles can be pricey, but there's a mini-version of this candle — with a 12-hour burn time — for $35.