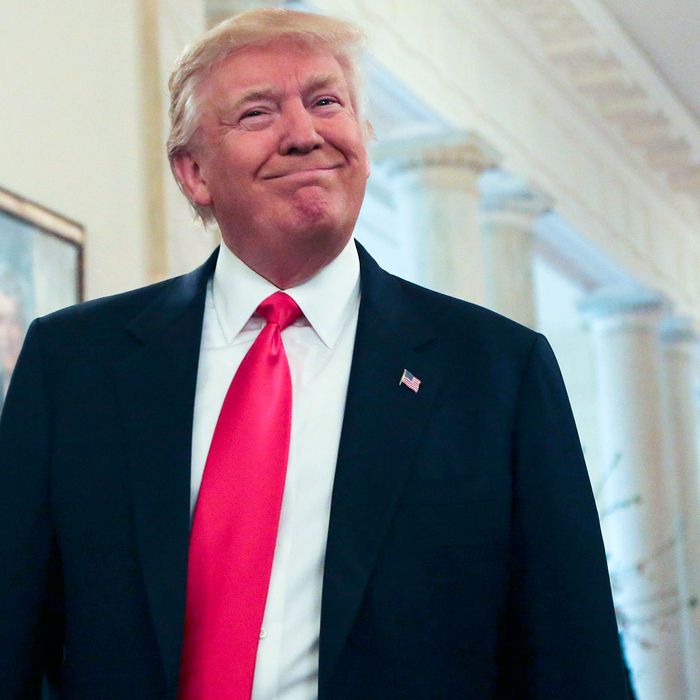 Donald Trump called the Oscars "sad."
Photo: Pool/Getty Images
The 2017 Academy Awards were sprinkled with political moments, and nearly all of them had to do with the current president. Jimmy Kimmel made Ivanka jokes, stars spoke out against Trump's anti-immigrant policies, and blue ACLU ribbons abounded. And then, of course, there was the mix-up of all mix-ups: Faye Dunaway accidentally announced that La La Land had won Best Picture when the award was intended for Moonlight.
On the surface, the political commentary and the Best Picture gaffe have absolutely nothing to do with each other. But in an interview with Breitbart, President Trump teased out a connection.
"I think they were focused so hard on politics that they didn't get the act together at the end," he said. "It was a little sad. It took away from the glamour of the Oscars. It didn't feel like a very glamorous evening. I've been to the Oscars. There was something very special missing, and then to end that way was sad."
Apparently "more from President Trump's exclusive interview with Breitbart News is forthcoming" — maybe he'll debunk the Nicole Kidman clapping conspiracy next.