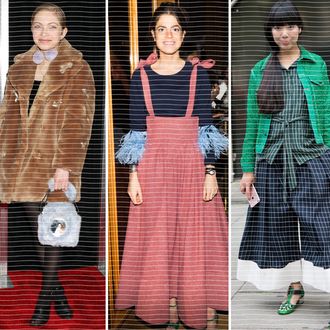 Katharine Zarrella, Tavi Gevinson, Leandra Medine, and Susie Lau.
Photo: Getty Images; BFA

A series investigating the effects of gravity on the female form.

Iris Apfel was involved in even more fashion collaborations this past year than her fellow ubiquitous fashion-spokesperson Alexa Chung. Linkups with Happy Socks (socks and underwear), Macy's INC line (ready-to-wear), WiseWear (wearable tech), Tane (jewelry), and even her own line of emoji were added to her existing lines with HSN (more jewelry) and Eyebobs (oversize glasses). She's also a "friend of the brand" for Swarovski, making public appearances on its behalf, and a brand ambassador for the Citroën DS — yes, the car. Apfel has been canny about taking what she calls her "geriatric starlet" persona multiplatinum while still preserving the appearance of being an outlier.
A couple of weeks ago, I was in a vintage store in a Texas strip mall trying on a pair of oversize sunglasses. The shop clerk said, accurately, "Those are sooo Iris Apfel," and then launched into a monologue about her love for the fashion icon, recommending Albert Maysles's documentary on her. She loved, she said, that Apfel didn't care what anyone else thought. Wouldn't that be nice?

Apfel isn't the only "geriatric starlet" to gain a beachhead with millennials, just the most famous. Advanced Style, the blog-to-book-to-documentary juggernaut helmed by Ari Seth Cohen, highlights rare birds of fashion d'un certain age, including Apfel herself, who leave no fascinator unturned. It's of a piece with the Instagram accounts celebrating the '80s-grandma lunacy of Angela Lansbury's outfits on Murder She Wrote or listicle tributes to the Golden Girls. But there seems to be a kind of wistfulness in the veneration of elderly style by young people — a couple of years ago, several women in my office were talking about how they wish they could dress that way. One pointed out that we could, if we simply "lower the legal age of not giving a f—." Our enshrinement of these women is part jealousy: wishing that we could be free of the need to be attractive to potential partners, to not scare away new friends or employers, to draw attention away from ourselves. What is today's athleisure-bot uniform but a kind of camouflage, telegraphing an overwhelming sameness — the fashion segment of the bland global-minimalism design ethos that writer Kyle Chayka called Airspace? The acceptable years for eccentric dressing shouldn't fall only during tutu-sporting childhood and blue-haired senescence.

Luckily, there are some women in my age cohort who aren't waiting until they qualify for Social Security to stunt Apfel style. Susie Bubble has been doing girlie maximalism long before Alessandro Michele was a name on anyone's lips; Leandra Medine built an empire on the transgressive appeal of "man-repelling" fashion. (When a woman dressing for herself constitutes a rebellion, you know we're dealing with some screwed societal norms.)
Katharine Zarrella, the founder of Fashion Unfiltered, has a style outlook as unfiltered as her criticism: wacky hats and turbans, and lots of Comme des Garçons. Zarrella says that she really eased into the eccentric thing when she moved to London in 2010, inspired by the city's embrace of weirdness. Since then, "I haven't gone out in about six years without some form of cranial accoutrement — I feel naked without something on my head." Another watershed moment was CDG's 2-D collection for fall 2012. "I loved how powerful I felt when I wore it, and I thought to myself, why save this for special occasions? Why shouldn't I feel like this every day? That was it."
"Life's too short to be boring, and I think people should find happiness and excitement in whatever ways they can," she adds. "For me, it just happens to be through fashion … my understanding of my aesthetic has helped me develop a further understanding of myself — of who I am — and, in my opinion, it's better to have a grasp on that by the time you hit 30 instead of waiting until you're 60."
My friend Piper Gray is another one of those women — she basically treats leopard print as a neutral. "I spent a lot of time as a kid in Tennessee drawing future-me in clothes I'd wear when I'd fully control my wardrobe," she recalls. "It was outlandish stuff I'd see on Miss America contestants and Rosalind Russell in Auntie Mame. (Those caftans!) I still go for the slightly outlandish, I guess, something a little bit bonkers. I recently took a personality test that said my defining trait was cowardice (rude), but I rarely second-guess what I wear. Aren't we all striving for self-possession? Give me animal print and something shiny — that's the closest I get."
If anything, it's the perfect uniform for unfettered youth. "I don't have to worry about baby spit-up or kid crumbs," she says, "so I can afford to be a little not-precious."