Drinking Wine and Dropping Snacks Near Emily Ratajkowski at InStyle's FW Party
Photo: Astrid Stawiarz/Getty Images for InStyle
Have you ever wondered what it is like to mingle with A-list celebrities and models and expensive furniture at exclusive parties during Fashion Week? We definitely already know, but for your sake, we decided to attend several fancy events this week to give you an accurate report of what really goes on behind doors blocked by publicists with guest lists on mini iPads. When celebrities see each other, do they kiss? Or fight? Or look very hard at their phones? And how good are Fashion Week parties, objectively? Do they have better drinks than normal parties? How much free stuff can we get? To get to the bottom of all of this, we RSVP'd (or politely requested invites) to many, many Fashion Week parties.
New York Fashion Week officially commences tomorrow, but the parties have already started. Last night, we attended InStyle's March Issue Celebration hosted by new editor-in-chief Laura Brown and cover model and former Bernie Sanders surrogate Emily Ratajkowski. Was it a good party? We'll tell you right now: yes. To inspire more confidence in our assessment, however, we have devised a complex rating system to review this party and all others we attend for the next week.
AMBIANCE
Kelly: While I was rushing to meet Allie at the Carlyle, a charming hotel on the Upper East Side of Manhattan in which I would love to receive a room "gratis," she issued to me, via text, an at once thrilling and chilling warning: "It is very chic in here."
Oh my gosh. She was right.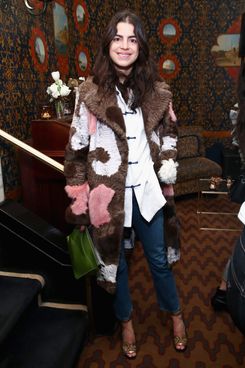 The air in the lobby smelled very much like an expensive candle, which I loved. Immediately I saw a man with gelled hair get turned away at the door, which I also loved. (I was allowed inside swiftly, of course, with the mere mention of my name and my outlet and the spelling of my last name and the spelling of my last name again — I don't mean to brag.) The interior of the party was crowded in a way that would have been anxiety-inducing if it weren't for the fact that every so often the person you were crammed near was someone very beautiful whom you had previously only known from television. (Now you can consider them your friend, technically.)
Men in tuxedos walked around refilling Champagne flutes. The lighting was dim, which was correct. The music was at a level that allowed talking but not overhearing, which was good for when Allie and I would say, "I THINK THAT PERSON LOOKS FAMILIAR BUT WHO IS IT?" to each other.
It was good.
Kelly's Ambiance Rating: 8/10
Allie: The bar area of the Carlyle looked like a rich uncle's smoking lounge, with the added benefit that no one was actually smoking. Groups of women wearing burgundy lipstick and (real) fur coats were gossiping on deep brown couches, and men wearing patterned jackets and very specific haircuts were not bothering them, which was nice. I was the only person wearing jeans, except for Emily Ratajkowski, who was wearing the same kind of jeans as me — twins. Though the party was so crowded that everyone was touching each other almost all of the time, it was easy to get a drink. When I ordered my first white wine, a tuxedoed bartender showed me the bottle, which said "French Blonde." (That's me.)
Allie's Ambiance Rating: 8/10
COMFORT LEVEL
Allie: I felt moderately uncomfortable throughout the night, which is a sign that it was a good party. We were not the best dressed or the most famous attendees, and that seemed right. Even the sweet, precocious teenager who was DJing the party would not give us the time of day; we had to ask one of his handlers for his name so we could include it in this review. Follow DJ Prince on Instagram!
Allie's Reverse-Comfort Calculation Rating: 7/10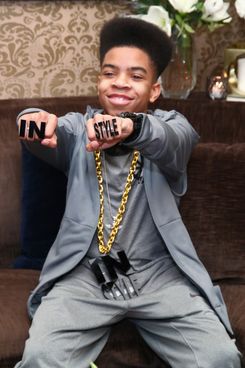 Kelly: Oh my gosh, DJ Prince was so cute. Every time Allie and I would pass him we would look at each other with exaggerated pained expressions and our hands over our hearts. That said, he was very good at DJing and very intimidating — a boon for the reverse-comfort calculation.
Otherwise I agree with Allie that I felt moderately uncomfortable for the duration, but not as uncomfortable as I thought I would. I was wearing black pants and a white T-shirt and looked like normal everyday garbage but felt mostly fine. Maybe because I had one and a half Champagnes and one cocktail.
Kelly's Reverse-Comfort Calculation Rating: 5.5/10
CELEBRITY SIGHTINGS
Kelly: Something I'd like to admit up front is that I am terrible at spotting celebrities. I also don't know anyone's name, even sometimes people I'm related to or write about fashion parties with (Anne Jone?). But, of course, according to Newton's third law, for every Kelly Conaboy there is an equal and opposite Allie Jones, and you can find that interaction at work in this series. Allie recognizes and remembers the names of every person she has ever heard about or, I think, even just overheard about.
She kept a running list throughout the night and I'll leave that for her to give you, but I will say that there were a surprising number of celebrities there including three that I recognized even given my unique inability: Connie Britton, Katie Couric, and Zazie Beetz from Atlanta. Incredible.
A startling thing about Katie Couric and Connie Britton was that I made eye contact with each of them and was greeted with the sort of eye contact that said, warmly and sincerely, "Hello, my friend! How are you?" I guess that's why they're famous. The eye contact I give, personally, no matter whom I am looking at, says, "WHAT? OH NO."
Zazie Beetz was very beautiful.
Kelly's Celebrity Rating: 8/10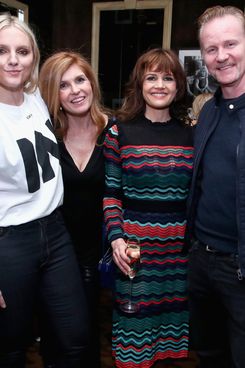 Allie: Kelly is unfortunately right about my brain. It is a prison containing the names of marginally famous people and nothing else. In 2015, when Kelly and I were at another Fashion Week party (I know), I recognized erstwhile High School Musical star Ashley Tisdale's (non-famous) husband. I told Kelly this at the time, and she looked at me like I had a cat on my head. Anyway, the first person I saw at the InStyle party was Girls showrunner Jenni Konner, who was leaving. Then I saw: Rich Kids of Beverly Hills star and Boobs and Loubs blogger Morgan Stewart, Nasty Gal founder Sophia Amoruso, and the models Liya Kebede, Karolina Kurkova, Hari Nef, and Shaun Ross. I also spotted Man Repeller blogger Leandra Medine's (non-famous) husband Abie Cohen, Alice & Olivia designer Stacey Bendet, Michael Grynbaum of the New York Times, and a sleepy-looking Courtney Love. Toward the end of the night, I stared for a minute at a short man with gray hair, and then I said to Kelly: "Jess Cagle."
The most exciting attendees, of course, were Connie Britton and Katie Couric. I also enjoyed spotting Laura Brown's boyfriend, who recently wrote an entertaining personal essay for Refinery29.
Allie's Celebrity Rating: Help me
ATTRACTIVE MEN
Allie: Laura Brown's boyfriend, but he's already Laura Brown's boyfriend.
Allie's Attractive Men Rating: 3/10
Kelly: There was one guy in a sweater who Allie was trying to say was handsome. "There's the sweater guy again." He was … okay.
Kelly's Attractive Men Rating: 3/10
SNACKS AND DRINKS
Kelly: I loved the snacks and the drinks. I had a passion-fruit vodka cocktail and it was quite enjoyable. At the beginning, Allie and I were worried we wouldn't get any of the snacks that were being passed around, but by the end we had found a spot where we had to turn away snacks roughly every 30 seconds. Incredible. I had some sorta meatball, some sorta dumpling, an apple thing, a crabcake, and a crunchy garlic thing, oh and a mozzarella toast.
At one point Allie dropped a snack and it was a whole to-do. Incredibly embarrassing.
Kelly's Snack-and-Drink Rating: 8/10
Allie: I have no clue what Kelly is talking about. I will suggest this to the party planners for next time: Consider offering people snacks that are not so crumbly, if you are also going to offer them as many white wines as they want.
Allie's Snack-and-Drink Rating: 5/10
WAS THERE A KID FROM STRANGER THINGS?
It seems that in the last few months everyone has met at least one of the kids from Stranger Things. Everyone, of course, except us. Still. We did not see any kids from Stranger Things.
Kelly and Allie's Stranger Things Kids Rating: 0/4
GIFT BAG
Kelly: There was one, which is good, and it was a tote bag, which is useful, but it only had a copy of InStyle in it. An exciting addition to the tote bag would have been something like a temporary tattoo, or maybe a duplicate of Emily Ratajkowski's Bernie Sanders sweater.
Kelly's Gift-Bag Rating: 5/10
Allie: I plan on using the tote bag to carry an extra pair of shoes to our next party … tonight! Please check back early and often for our next review.
Allie's Gift Bag Rating: 5/10
InStyle's March Issue Celebration Cumulative Rating: Good Party