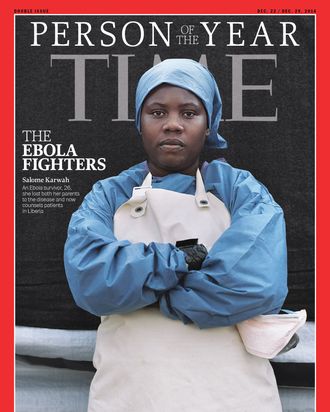 In 2014, Salomé Karwah was named a Time magazine Person of the Year for her frontline work fighting Ebola in west Africa. But last week, Karwah died from childbirth complications in Liberia, after hospital staff initially refused to help her due to the stigma that still surrounds the disease, the Guardian reports.
During the Ebola outbreak of 2014 in Liberia, Karwah contracted the disease and survived, although her parents, brother, uncles, aunts, niece, and cousin all died as a result of Ebola. Afterward, Karwah decided to dedicate her life to helping others, and got a job at a Médecins San Frontières/Doctors Without Borders Ebola treatment center, where she worked as a mental-health counselor. In an October 2014 essay for the Guardian, Karwah wrote that helping others with the disease brought her pleasure, and that "if someone has Ebola, it isn't good to stigmatize them, because you don't know who is next in line to contract the virus."
On February 21, however, Karwah died four days after giving birth by cesarean section to a son named Solomon, Time reports. Hours after she left the hospital, she began convulsing. She was rushed back to the hospital, but hospital staff initially refused to touch her because of the foam around her mouth, according to Karwah's sister, Josephine Manly.
"They said she was an Ebola survivor. They didn't want contact with her fluids. They all gave her distance. No one would give her an injection," Manly told Time.
The family isn't sure what caused Karwah's convulsions, though Manly suspects that something went wrong during her C-section. Karwah died the following day, but Manly believes that her sister may have survived the complications if she had received immediate treatment. Instead "she was stigmatized," the sister noted.
Members of Karwah's small community in Liberia are reportedly "devastated" by the news of her death. One of her fellow Ebola fighters, MSF health promoter Ella Watson-Stryker, told Time, "To survive Ebola and then die in the larger yet silent epidemic of health system failure … I have no words."