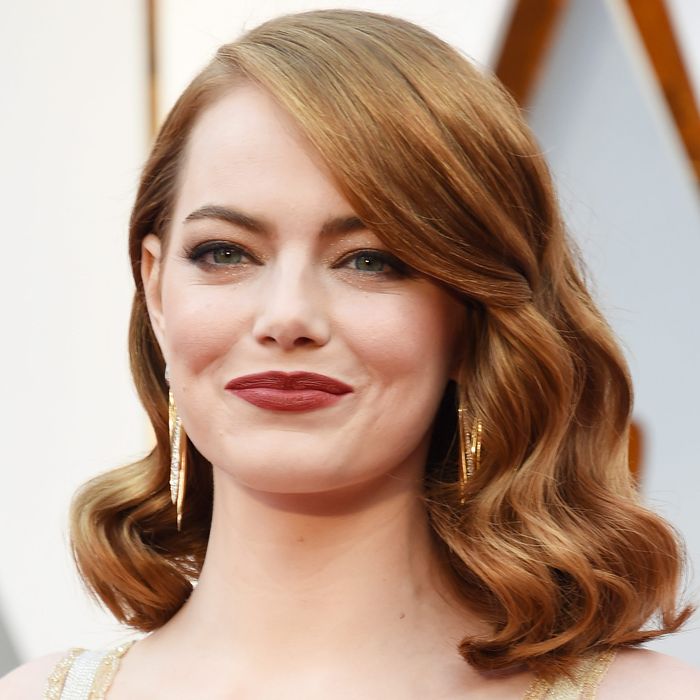 Emma Stone.
Photo: This content is subject to copyright.
Rachel Goodwin, Emma Stone's makeup artist, had two months to plan the actress's big-night Oscars look. To ready herself she created a mood board, which is par for the course for the makeup artist as she prepares for a big event.
"I was inspired by Gabriel Rossetti because he always painted redheads," Goodwin told the Cut on Oscars night. The 19th-century painter (and a redhead himself) was known to appoint flame-haired women as his muses.
But you might say Stone's makeup traversed time, as Goodwin also looked to cues from the 1930s and 1940s, when "movie stars were so glamorous," as well as a 2013 editorial featuring Karlie Kloss, where a bright berry shade adorned the supermodel's lips.
It was also very important to Goodwin to make sure the lips lasted through the evening. "Emma's category [Best Actress] comes up late in the night, so I wanted to make sure the color could last. I applied Nars lipstick, blotted, applied more lipstick, and layered that with powder, and then applied a final layer of lipstick," Goodwin explained.
But in the end, the goal of crafting a classic look reigned supreme for Goodwin. "I want this to be something you can look back on years from now, and still love it."