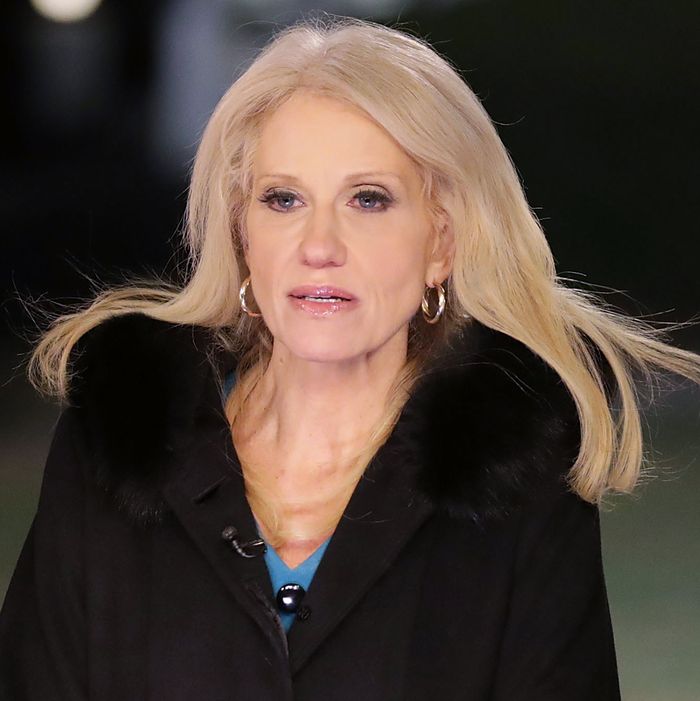 Kellyanne Conway could be in trouble for her comments on Ivanka Trump's line.
Photo: Chip Somodevilla/Getty Images
When Kellyanne Conway told Fox & Friends viewers to "go buy Ivanka's stuff," there was little doubt she'd violated federal ethics laws ("An employee shall not use his public office for his own private gain, for the endorsement of any product, service or enterprise, or for the private gain of friends, relatives, or persons with whom the employee is affiliated in a nongovernmental capacity"). Conway's "free commercial" for Ivanka prompted a watchdog group to file a complaint with the U.S. Office of Government Ethics and White House Counsel's Office, and on Tuesday OGE responded by recommending she be formally disciplined.
"There is strong reason to believe that Ms. Conway has violated the Standards of Conduct," a letter written by OGE director Walter M. Schaub Jr. and signed by Rep. Jason Chaffetz and Rep. Elijah Cummings reads. After rehashing the circumstances of Conway's comments — that she appeared in the White House briefing room in her official capacity as counselor to the president — Schaub wrote that "these facts, if true, would establish a clear violation of the prohibition against misuse of position" and recommended that "the White House investigate Ms. Conways' actions and consider taking disciplinary action against her."
The letter also notes that so far, she seems to have avoided any punishment at all: "Although Press Secretary Sean Spicer stated during a press conference on February 9, 2017, that 'Kellyanne has been counseled, and that's all we're going to go with,' OGE has not yet received notification of any disciplinary or other corrective action against Ms. Conway."
Conway originally made the comments in reference to the news Nordstrom was dropping Ivanka Trump's line. The president, who reacted to the news by rage-tweeting at Nordstrom, reportedly objected to Spicer's use of the word "counseled" because he thought it was "unfair" and "made it sound like she was in trouble." But other sources said Ivanka herself wasn't happy about the whole thing, as Conway's remarks dragged her brand further into the political fray.
The letter comes after hundreds Chaffetz's angry constituents assembled for a rowdy town hall to chant things like "do your job" and to ask why Chaffetz wasn't investigating Trump with the same level of enthusiasm as, say, Hillary Clinton's emails. At the time, Chaffetz said it was "wrong, wrong, wrong, clearly over the line, unacceptable" for Conway to promote Ivanka's business on air. He was less definitive about things like Trump's tax returns, but lucky for him, calling out Kellyanne doesn't seem to have a political downside.