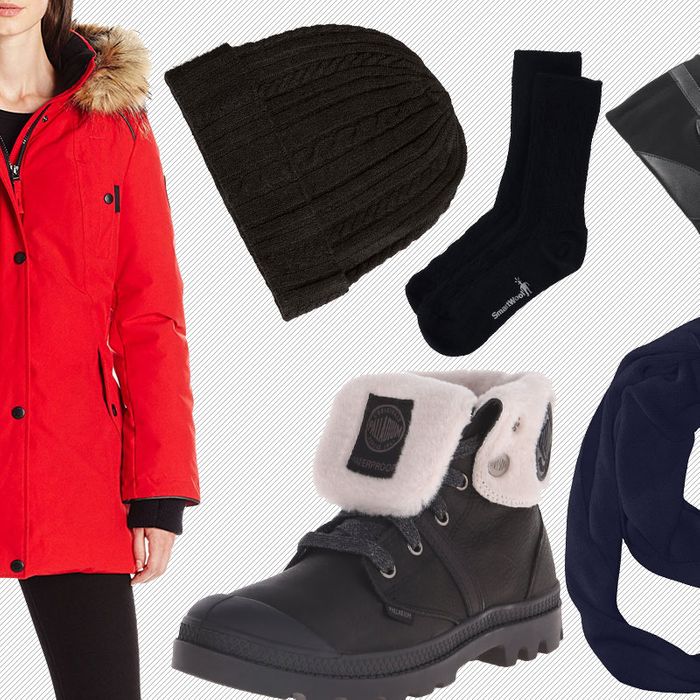 It's hard to believe a blizzard could succeed a 60-degree day, but yesterday served as a brutal reminder. If you're like us, you probably have lost your favorite gloves or maybe didn't even bother to buy proper snow boots. And while you'd be justified in running out to the shops for extra winter gear, spring and summer stock has already replaced coats, gloves, scarves, and hats in most stores. The good news? There's always Amazon Prime. Here, we've rounded up the most functional, best-looking cold-weather gear to keep you warm and dry for the rest of the season.

The Winter Coat
In the face of a doomsday-level blizzard, few things matter more than warmth. This coat delivers with faux-fur lining and down filling, without totally disregarding style.

A Hat to Keep Your Head Warm

This hat from Fishers Finery is just under $40, but still has the luxe feel of cashmere.

The Scarf

It may be hard to justify an expensive scarf halfway into February, so instead, try this super-soft, $35 acrylic version. The eternity style ensures that it will stay put around your neck.

The Gloves

Taking off your gloves every time you need to make a call or text ruins the pleasure of wearing them. These fleece-lined Isotoner gloves are touch sensitive so you can swipe or tap away without exposing you hands to the cold.

The Impermeable Winter Boot

Little comes close to the quality and affordability of Palladium's waterproof boots. They provide the traction of a snow boot without the bulk and they're shearling-lined for extra warmth.

The Wool Sock

Socks are the underrated MVPs of warm-weather dressing. They're as equally important as finding the perfect winter coat. When in doubt, choose wool.

If you buy something through our links, New York may earn an affiliate commission.