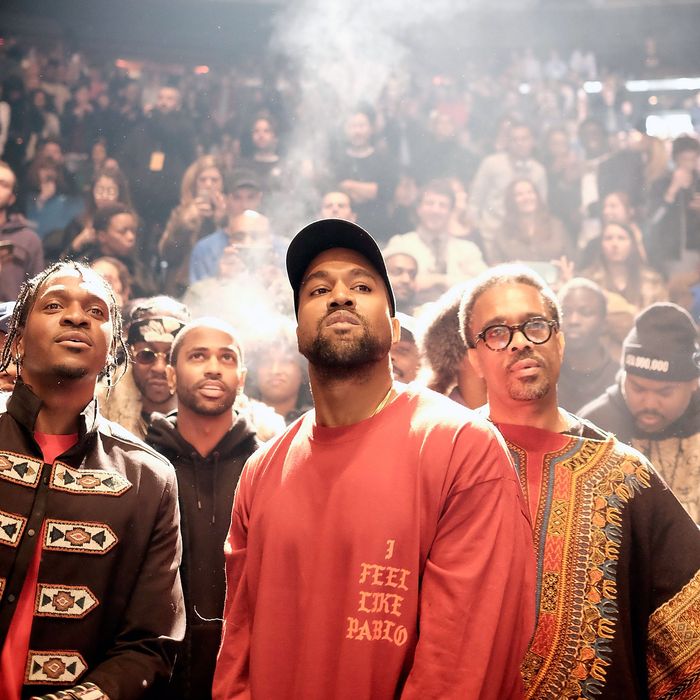 Photo: Dimitrios Kambouris/Getty Images
"That's a little like inquiring, 'Are you planning to visit an abusive friend?'" says the Washington Post's Robin Givhan when asked whether or not she'll attend Kanye West's NYFW runway show on February 15. In the days leading up to Yeezy Season 5, Givhan is still undecided. On the one hand, "There's always a search for something new and exciting, and in that sense, Yeezy is part of the fashion story. We want to know what he's going to do," she says. On the other hand, well, where do we begin?
Last year, the fashion world came down hard on West's Yeezy Season 4 runway show, widely viewed as an unmitigated, scene-stealing disaster. Held in Roosevelt Island's Four Freedoms Park (which elicited praise for its symbolism but grumbling for the schlep) the show was delayed for hours, and models began to faint under the blistering sun. "His audience and his models were leaping through hoops," says Givhan. And as for the fashion? It was "worse than bad. It was boring," she wrote at the time. Another fashion editor, who commented for this story anonymously, put it simply: "I'm done with him," he said.
But that didn't seem to matter last week when the announcement of Yeezy Season 5 became the industry's favorite headline. "Is he the Trump of the fashion world?" jokes Hollywood Reporter's senior fashion editor Booth Moore, who is both interested to see what West does and feels a professional responsibility to attend and cover the show. "You can't ignore a newsmaker," Moore says.

Or can you? Rachael Wang, fashion director at Allure, refuses to take part in West's spectacle. "I cannot support a company that doesn't seem to care for its models appropriately and uses racially charged language," she says, referencing Season 4's contentious open casting call for "multiracial women only." Fashion Unfiltered editor-in-chief Katharine Zarrella, who is also taking a stand, was most enraged by what didn't make headlines during Yeezy Season 4: the Parsons MFA show. "If Kanye really loves fashion, he should support young talents within the industry, not take attention away from them," she says. In a scathing review, Zarrella pledged not to attend or cover Yeezy on her site again.
But Wang and Zarrella know they're in the minority. For Vanessa Friedman, fashion director and chief fashion critic for the New York Times, there was no question as to whether she'd attend. "There's a lot of interest to our readers in what he makes, and it is my job to report that to them," she says. "Whatever my personal politics are, they do not come into my job." Besides, she adds, of West's relationship with Trump, which was met by reproach from some and eye rolls from others, "I think in the grand scheme of the Kanye universe, that was simply another element. People had not entirely gotten over their experience at the last Kanye show, so the Trump moment didn't shock anybody."
"He's a showman," says Moore. "His sneakers spawn lines around the block whenever a new edition comes out, so he does have selling power." Moore suspects that West's divisiveness within fashion runs deeper than the chaos of Season 4 or even West's Trump endorsement. "Kanye is an outsider in the industry, and I think that plays out under the surface," she says. "The story of fashion shows delayed by hours and people sweating in the front row is not limited to Kanye West. Marc Jacobs has done it for years. I'm not a Kanye apologist, but treating him like he's the first designer who's ever behaved badly is absurd."
And West's outsider status is exactly what keeps some editors coming back. "His shows bring a ton of eyes to New York Fashion Week that otherwise wouldn't be there," says Jian DeLeon, editor-at-large at High Snobiety. "The shows might overshadow the clothes themselves at times, but West remains committed to proving himself in the fashion arena despite his detractors, and I think that's one of the most admirable things about him. With Yeezy, he's done a good job of creating an alphabet rooted in military, workwear, and streetwear staples, and each collection exhibits a distinct progression of those themes." While DeLeon understands why some people are cooling on West, he himself is both personally and journalistically motivated to show up on February 15. "I think any of his shows have a valid cultural relevance that would make them worth covering despite any personal attitudes regarding West himself. It's going to be a spectacle regardless."
Zarrella does commend West for his recent gesture of goodwill; after being reprimanded by CFDA president Stephen Kolb for booking his show during Marchesa's official time block, West called Kolb to apologize and rescheduled. He also skipped Roosevelt Island in favor of the more sensible Pier 59. "The indications are that it will be a more toned-down show," says Friedman.
"There's less patience for narcissistic, selfish behavior than there was six months ago," Givhan says of the industry's mood, and maybe West is feeling that. After coming out in support of Donald Trump in November, he quietly wiped his Twitter account of all Trump-related mentions last weekend. Or maybe West is shaking in his Boosts? After all, scandalized customers burned their New Balances when a company spokesperson made a lightly pro-Trump comment; West unveiled his new sneaker on Friday.
But West is not one to change his course of action to pander to the public. And people will likely still flock to his show, spurred by the same force that drives a spellbound fly to a lightbulb. Zarrella's sure of it. "It's going to be a packed house."