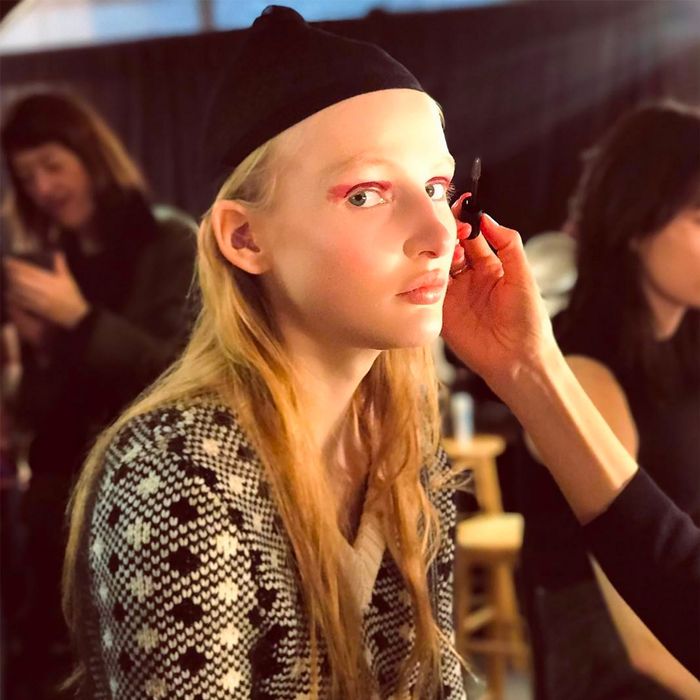 Beauty editor Ashley Weatherford captured this look at Dion Lee.
The Cut's editors cover Fashion Week in real time across multiple channels: Not just on this website, but on Instagram and Snapchat, too. Follow our accounts to get the inside view on everything that's going on, and check this daily compendium for highlights. Editorial director Stella Bugbee, style director Rebecca Ramsey, senior market editor Diana Tsui, senior beauty editor Kathleen Hou, senior fashion news editor Véronique Hyland, and more of the Cut's team will all be contributing to coverage.
DAY FOUR
Saturday's weather was mild, but the shows were not. Most of the anticipation was around whether there would be an Alexander Wang after-party. (There wasn't.) But before that answer was revealed, our editors saw a bouquet of red looks at Ryan Roche, structured womenswear at Tibi, a beautiful nightmare of a haunted set at Simon Miller, and plenty of neighborhood-oriented hoodies at Knowlita. When the Cut team finally arrived to see Bella, Kendall, and Selena at Wang, it was clear that there was in fact no after-party, but the cool abandoned theater stocked with Peroni kegs was all they really needed. And the 1 train home ended up being a pretty good post-game anyway.