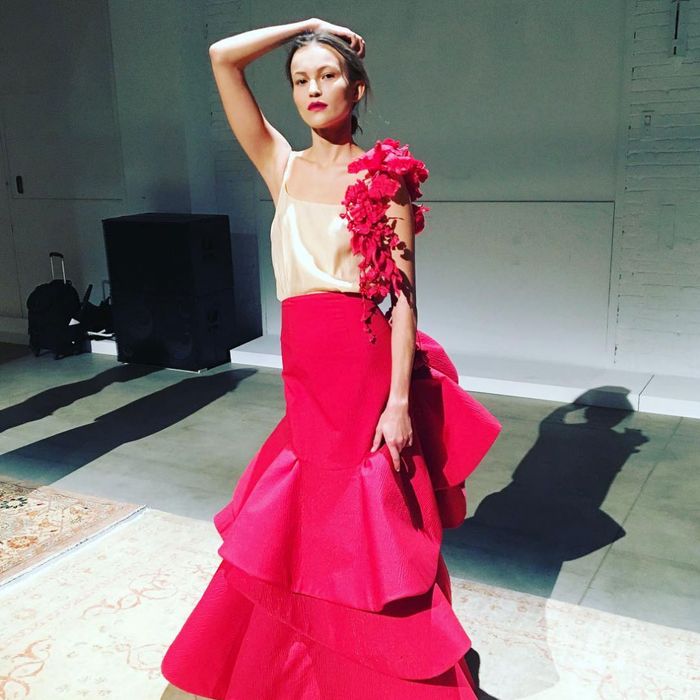 A very Valentine's Day–appropriate gown at Rosie Assoulin.
Photo: Courtesy of Instagram/maura_walters
The Cut's editors cover Fashion Week in real time across multiple channels: Not just on this website, but on Instagram and Snapchat, too. Follow our accounts to get the inside view on everything that's going on, and check this daily compendium for highlights. Editorial director Stella Bugbee, style director Rebecca Ramsey, senior market editor Diana Tsui, senior beauty editor Kathleen Hou, senior fashion news editor Véronique Hyland, and more of the Cut's team will all be contributing to coverage.
DAY SIX
The morning started with ginger tea, Middle Eastern sweets, and illustrations at Rosie Assoulin. The romantic dresses were what black-tie fantasies are made of, and the presentation included someone on set live drawing the models. Oscar de la Renta's shimmering show featured bright makeup and a surprising crowd of attendees including Huma Abedin. Eckhaus Latta was inspired by "dreams where you're choking on a pushpin in the C-suite," and was decorated with stock images. And Proenza Schouler's runway had plenty of sparkle, asymmetry, and funky coats.