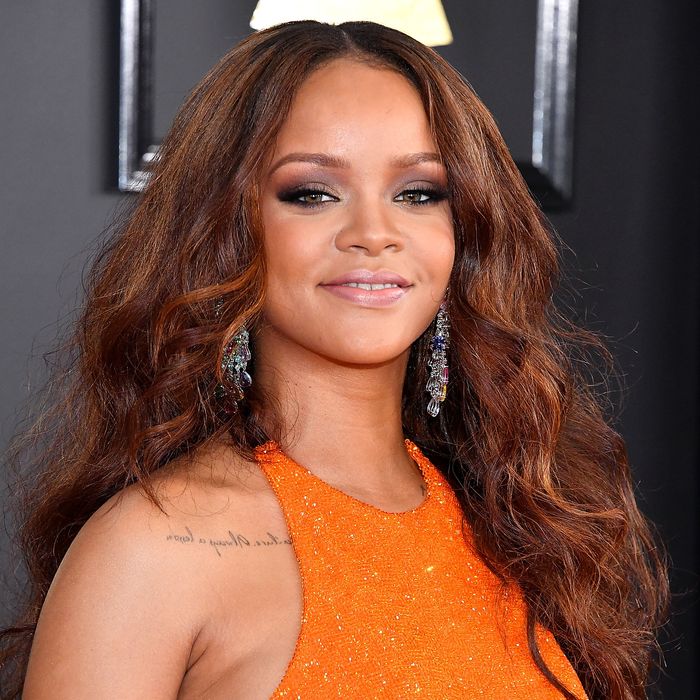 Photo: Steve Granitz/WireImage
Rihanna's long-awaited makeup line will finally be making its way to a Sephora near you this fall. Recently, Fenty Beauty by Rihanna appeared to unveil photos of its first product — a holographic lip color last seen at the Fenty x Puma spring 2017 runway show — on Instagram.
The brand-spankin'-new account has details on where the line will be launching, as well as info on a curious new venture for budding makeup artists. But it turns out this is a case of fake news: the Instagram account was actually generated by fans. The Cut received a clarification from Fenty's public relations team, who said, "Any other post and/or chatter are from fan pages that are enthusiastically awaiting the launch and are unofficial and conjecture about the launch."
However, it is true that Fenty will be holding in-person auditions at the end of February for a global makeup artist and positions on the International Fenty Beauty Artistry Team, with makeup artist Jim Vincent heading up the search.
Luxury conglomerate LVMH signed Rihanna to develop the beauty line for a cool $10 million in a deal announced last April. Rihanna's line will be developed with Kendo — originally the private label development department of Sephora — which is also behind Marc Jacobs Beauty and Kat Von D Beauty.