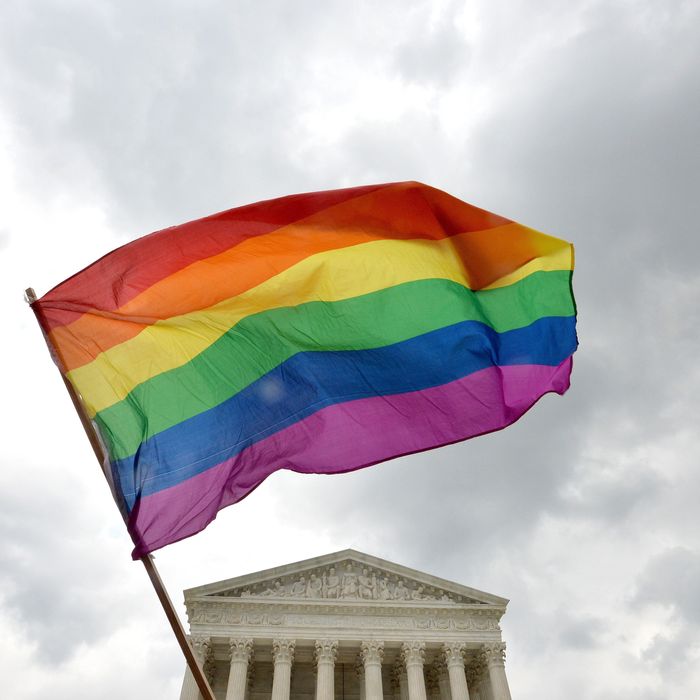 Photo: MLADEN ANTONOV/AFP/Getty Images
Teen suicide attempts in the U.S. dropped after same-sex marriage was legalized, a new study found. Researchers linked same-sex marriage policies to a 7 percent reduction in adolescent suicide attempts, and a 14 percent decrease among gay, lesbian, and bisexual teenagers, in particular.
Suicide is currently the second leading cause of death in people between the ages of 15 and 24 — and those who identify as sexual minorities are at an even higher risk. As the Guardian reports, Massachusetts became the first state to legalize same-sex marriage, in 2004, and 36 states followed suit before it was legalized nationwide, in June 2015. To determine whether there was a correlation between same-sex marriage policies and teen suicide attempts, Johns Hopkins University scientists analyzed data from over 760,000 high-school students between 1999 and 2015, collected as part of the Centers for Disease Control's Youth Risk Behavior Surveillance System.
Published in the journal JAMA Pediatrics, the study compared suicide attempts in public-high-school students in 32 states before and after same-sex marriage policies were implemented by January 1, 2015, with those in 15 states where the policies remained unchanged at that time. Before the legislation was implemented, an overall 8.6 percent of high-school students in the U.S. reported attempting suicide, as well as 28.5 percent of teens who identified as gay, bisexual, lesbian, or "not sure." The students weren't asked whether they identified as intersex, queer, or transgender.
States that legalized same-sex marriage saw a 0.6 percentage point reduction in suicide attempts, whereas those whose policies remained unchanged saw no difference in teen suicide attempts. The study authors estimate that the same-sex marriage policies led to 134,000 fewer high-school school students attempting suicide each year. But as with most studies, the research has limitations; namely, it isn't clear why, exactly, same-sex marriage policies are linked to a reduction in teen suicide attempts.

"There are a number of potential mechanisms," lead study author Julia Raifman, a researcher at Johns Hopkins, told the Guardian. "Those include whether the policies themselves reduce perceived stigma among adolescents — and that may drive reductions in suicide attempts — but it is also possible that same-sex-marriage policies drive social change among parents, teachers, and peers of sexual minority adolescents. It is also possible that the campaigns around same-sex marriage policies are responsible for changing the experiences of LGB adolescents."