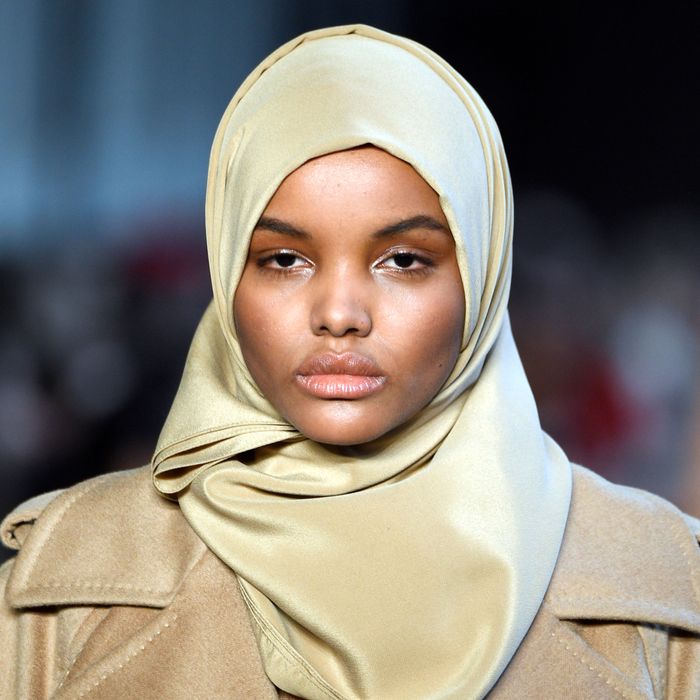 Photo: Pietro D'aprano/Getty Images
Halima Aden is a hugger. Before making her runway debut at the Yeezy Season Five show ("I never thought I would walk for such an established music and fashion icon," she says), the Somali-American IMG Muslim model became the first-ever beauty-pageant contestant to compete in a hijab and burkini. She, her headscarf, her braces, and her warm personality are now making their way through the other Fashion Month cities. Since appearing on the cover of CR Fashion Book, Aden now has the support of Carine Roitfeld and has walked in several Roitfeld-styled Milan shows, like Alberta Ferretti and Max Mara (and "hopefully" will head Paris). The Cut talked to Aden for five minutes backstage this morning at Max Mara about her favorite natural beauty tips and about why she chose to keep the braces on.
Your skin looks beautiful. What do you to take care of it?
My mom and grandma, growing up, one thing they emphasized was that you need to make sure that anything you put on your skin is also digestible by the body. For example, if something isn't safe for me to eat or consume, it's probably not good for your face. So I do a lot of natural remedies.
I like honey, which I use after I wash my face. I leave it on for 15 to 30 minutes; it helps makes [my skin] smooth. I sleep with aloe vera gel, it's a natural plant. I love it. It's so convenient, you can buy it, it's like $2. It works! It takes the puffiness from my face.
And I do oatmeal. I forget what else my mom puts in it. I use it as an exfoliant once a week. And then brown sugar and honey to exfoliate your lips.
So while traveling for Fashion Month you're carrying around honey and oatmeal?
I wish! I do it at home. Skin care is so much more important than makeup. Makeup is for when you're having fun and going out. But your skin is forever. Moisturizing every night is important. When you're 50 or 60, it's going to show if you don't take care of it. You have to prepare when you're young, so you still have that healthy, glowing skin when you're 60 or 70.
Product-wise, I use a morning and night cleanser. I'm really not a brand person. When I'm traveling, I just carry my face wash and moisturizer.
Tell me about your braces.
I've had my braces about six years, on and off. It's been a bumpy relationship. When I completed for the pageant, I decided to take them off. I wanted to look my absolute best. I thought it would make me more confident. But taking them off I still felt about the same. People were still as welcoming, nothing changed. So I thought, braces didn't impact that. After that, I decided that I'm going to keep them on, they're a part of who I am.
Besides, I know it's something a lot of girls are insecure about. I know I was when I was in high school. You hear comments like Brace Face or Train Tracks. It can make you insecure about your teeth. So I thought, What a great way to show people I'm not perfect. My teeth aren't perfect. But I'm still modeling.