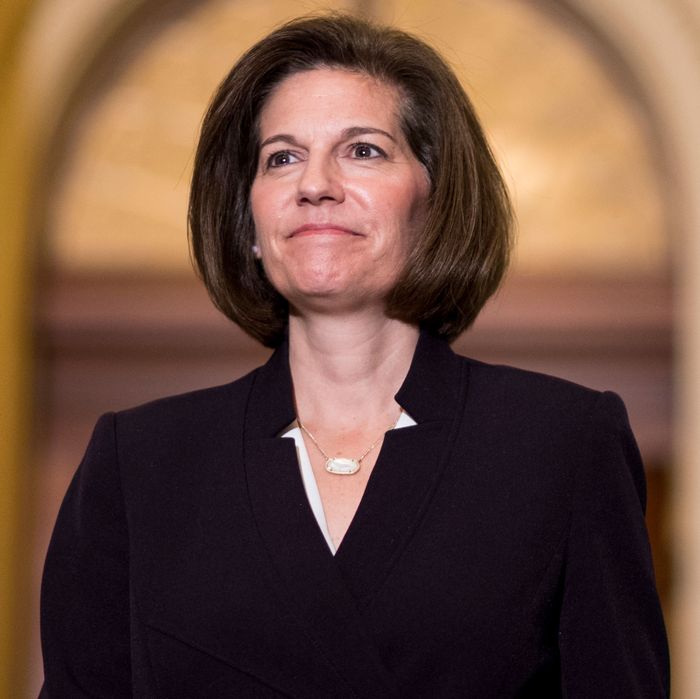 Catherine Cortez Masto is the first Latina elected to the U.S. Senate.
Photo: Bill Clark/Getty Images
On Election Night, Catherine Cortez Masto became the first Latina ever elected to the U.S. Senate. The former Nevada attorney general beat out Republican Joe Heck in a tight race, and in her victory speech she promised to be "one hell of a check and balance" on President Trump. Since then she's voted against almost all of Trump's cabinet picks, and in an interview with Elle, the senator stressed the importance of getting women involved in government to fight back against the erosion of their rights:
Right now, there are 21 female senators in the Senate, and that is more than we have ever had at any one point. It's not enough … we're still fighting for equal pay for equal work. We're still fighting for our right to decide what happens to our bodies. We are hearing from members in Congress who still don't understand what Planned Parenthood does for members of our communities. Women need more seats at the table. Period.
She added that, when she entered the race, she knew she'd be the first female senator from Nevada, but she didn't know she'd be the first Latina until someone told her. And for Latinos in her state, Cortez Masto has become an important ally. "I will be in a convenience store or out in Southern Nevada or in Reno, and people will come up to me and cry," she said. "It reminds me that I am here to represent them, their stories, their struggles, their fight."
Having women — and particularly women of color — in government positions changes the way government works, she said. "We have different perspectives that we bring to the conversation, different issues that we push forward." But the confidence gap kills the ambitions of many women. "When women apply for a job, we ask ourselves, 'Am I qualified? Do I have the experience? Do I have the education? Do I have the abilities?'" she said. "When a man looks at that job, he thinks, 'How much does it pay?' We need to stop second-guessing our abilities."