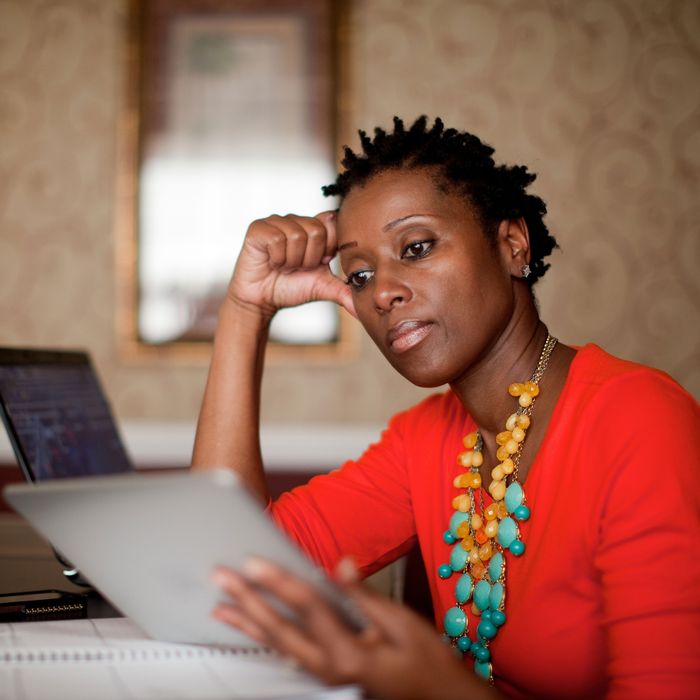 Photo: mother image/Getty Images
The start-up boom has brought a variety of new concepts to the workplace. From free snacks to paid family leave to the theoretical obliteration of hierarchical ladder-climbing, we are confronting a brave new world of changing expectations on what work should really look like. And while the bad comes with the good (loosely defined sexual-harassment policies and slipshod benefits plans come to mind), one positive result of the boom has been a necessary reassessment of job flexibility. Could giving workers an option to work wherever they want, whenever they want actually improve productivity?
Well, it depends on whom we're talking about.
The flexibility paradigm is one that has been raised a lot recently, especially with more and more millennials making a push toward working remotely. Studies have found that letting people work from home actually does improve productivity and allowing for more flexibility could play a part in closing the gender pay gap. A paper published in the American Economic Review found that "the gender gap in pay would be considerably reduced and might even vanish if firms did not have an incentive to disproportionately reward individuals who worked long hours and who worked particular hours." It makes sense: In traditional office settings, when seats in chairs are the visual representatives of a job well done, and not the actual work itself, women who are tasked with an uneven share of child-care responsibilities, and who need more time at home because of it, are put at a disadvantage when the boss comes around.
On Tuesday, a piece in the New York Times addressed this issue head-on: A new job-search company called Werk will negotiate flexibility with employers first, so that employees don't have to worry about going through the discussion themselves come hiring day. "All the positions listed on the Werk site, including some from Facebook, Uber and Samsung, are highly skilled jobs that offer some sort of control over the time and place of work," the Times reports. "People can apply to jobs that let them work away from the office all the time or some of the time, and at hours other than 9-to-5, part time or with minimal travel." As the piece points out, Werk is starting small: "Most of the employers are small companies, and it is aimed at an elite group of women — highly educated and on a leadership track."
Squashing stigmas attached to flexibility is a good step in the direction of making certain workplaces more egalitarian environments for women, and if flexible hours were unilaterally interpreted as a benefit among men, women, and their bosses, there would be a more level playing field. (Though, when it comes to child-care responsibilities, there is still a desperate need for men to voluntarily take on a more equitable share of the work.) But relying on flexibility as the principle that could upend years of unconscious and conscious gender discrimination only speaks to the group of workers whose jobs and career choices even allow for flexibility in the first place. Flexibility is not a given in some jobs — it's a luxury. And for many more, flexibility isn't now — and won't ever be — an option.
Service jobs, for example — unlike salaried positions with higher incomes — come with unpredictable schedules and a reliance on hourly wages to make ends meet, so flexibility is not an option. Women of color make up 23 percent of minimum-wage workers and research by the Center for American Progress found that women of color are more likely than white women to be "shunted into the lowest-earning occupations in the service sector and in sales and office jobs." For Hispanic women, this is particularly true: "Among working women in 2014, 62 percent of Hispanics were clustered into just two job groups—service occupations and sales and office occupations.This is compared with 57 percent of blacks, 51 percent of whites, and 44 percent of Asians in the same job categories." The Center for American Progress research also found that women of color are less likely to work in high-hours occupations than white women, which means white women would benefit most from policies that encourage flexibility at all.
The service industry is not the only industry in which flexibility would not be presented as an option for women workers; industries like teaching, nursing, and child care also require set hours and schedules, and would never thrive if women — who disproportionately dominate these industries — decided to start opening up their laptops and doing work from bed.
If flexibility became a built-in expectation for women at work–like paid family leave, affordable childcare, and even a shot at closing the gender pay gap are promised to be soon–it would only really benefit highly educated, mostly white women in high-paying industries where technology and remote work are already part of the job's fabric. As usual in discussions surrounding the workplace, women of color working in low-paying non-salaried jobs with no paid family leave are being left behind, as an afterthought. So when it's said that workplace flexibility will help to close the gender pay gap, the question is, for who?