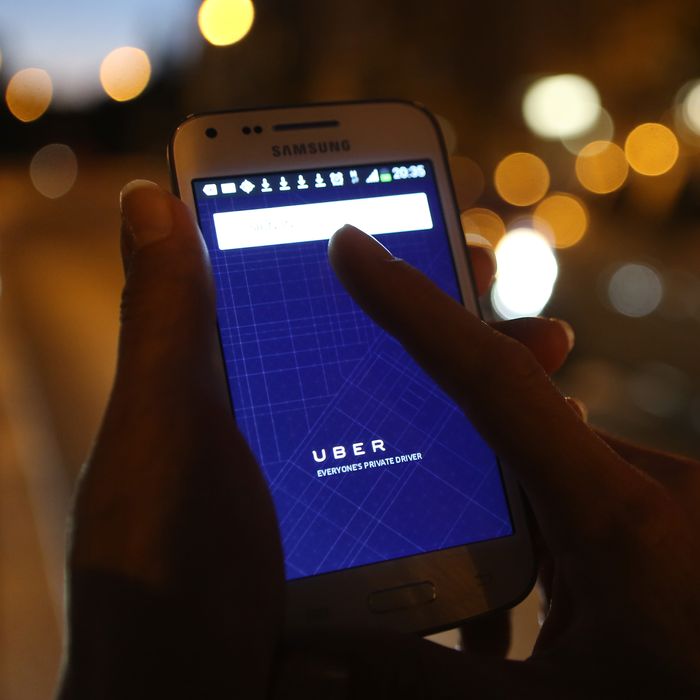 Photo: Adam Berry/Getty Images
The #DeleteUber hashtag is going around Twitter again, and this time the controversy has nothing to do with the Trump administration. In a blog post published Sunday, former Uber engineer Susan J. Fowler describes the institutional sexism she allegedly encountered while working for the ride-hailing company over the last year, calling the experience "strange, fascinating, and slightly horrifying."
Fowler, who left Uber in December and now works at Stripe, says that a few weeks after she started at Uber, her new manager sent her messages explaining that he was in an open relationship and looking for women to have sex with. Fowler took screenshots and reported the incident to HR. She says that while both upper management and HR agreed that he was propositioning her, they said they would only give him a warning because he "was a high performer" and it was his first offense. She writes:
I was then told that I had to make a choice: (i) I could either go and find another team and then never have to interact with this man again, or (ii) I could stay on the team, but I would have to understand that he would most likely give me a poor performance review when review time came around, and there was nothing they could do about that. I remarked that this didn't seem like much of a choice, and that I wanted to stay on the team because I had significant expertise in the exact project that the team was struggling to complete (it was genuinely in the company's best interest to have me on that team), but they told me the same thing again and again. One HR rep even explicitly told me that it wouldn't be retaliation if I received a negative review later because I had been "given an option". I tried to escalate the situation but got nowhere with either HR or with my own management chain (who continued to insist that they had given him a stern-talking to and didn't want to ruin his career over his "first offense").
Fowler decided to leave the team, but as she got to know other women at the company, she discovered they had similar stories about the manager. "It became obvious that both HR and management had been lying about this being 'his first offense,' and it certainly wasn't his last," she says. "Within a few months, he was reported once again for inappropriate behavior, yet those who reported him were told it was still his 'first offense.'" Eventually he left the company for unclear reasons.
Fowler goes on to describe "a game-of-thrones political war" in the infrastructure engineering department, with upper managers openly working to undermine each other. Fowler says she was shocked and saddened when her transfer requests were blocked, despite receiving perfect performance scores. After much pushing, she was given only vague explanations, such as "performance problems aren't always something that has to do with work, but sometimes can be about things outside of work or your personal life." She says she eventually found out she was being held back because she was one of the only remaining female engineers:
It turned out that keeping me on the team made my manager look good, and I overheard him boasting to the rest of the team that even though the rest of the teams were losing their women engineers left and right, he still had some on his team.

When I joined Uber, the organization I was part of was over 25% women. By the time I was trying to transfer to another eng organization, this number had dropped down to less than 6%. Women were transferring out of the organization, and those who couldn't transfer were quitting or preparing to quit. There were two major reasons for this: there was the organizational chaos, and there was also the sexism within the organization. When I asked our director at an org all-hands about what was being done about the dwindling numbers of women in the org compared to the rest of the company, his reply was, in a nutshell, that the women of Uber just needed to step up and be better engineers.
In another bizarre incident, Fowler says the company promised to buy everyone in her organization leather jackets, then, at the last minute, the women were told they would only go to the men. They company received a discount for buying 120 men's leather jackets, but there were only about six women still working in the organization. Fowler says a superior explained it wouldn't be fair to buy the women slightly more expensive jackets, and if they wanted them "we women needed to find jackets that were the same price as the bulk-order price of the men's jackets."
Fowler says the last straw was when HR called her out for consistently reporting incidents of sexism, and asked her whether she was friends with other female engineers, and what email addresses and chat rooms they used to communicate. A week later, her boss called her in for a meeting:
He told me I was on very thin ice for reporting his manager to HR. California is an at-will employment state, he said, which means we can fire you if you ever do this again. I told him that was illegal, and he replied that he had been a manager for a long time, he knew what was illegal, and threatening to fire me for reporting things to HR was not illegal. I reported his threat immediately after the meeting to both HR and to the CTO: they both admitted that this was illegal, but none of them did anything. (I was told much later that they didn't do anything because the manager who threatened me "was a high performer").
After Fowler's post began circulating, another former Uber employee said he'd had a similar experience with the company's human resources department.
Uber CEO Travis Kalanick released a statement promising to "conduct an urgent investigation" and fire anyone who "behaves this way or thinks this is okay."
I have just read Susan Fowler's blog. What she describes is abhorrent and against everything Uber stands for and believes in. It's the first time this has come to my attention so I have instructed Liane Hornsey our new Chief Human Resources Officer to conduct an urgent investigation into these allegations. We seek to make Uber a just workplace and there can be absolutely no place for this kind of behavior at Uber – and anyone who behaves this way or thinks this is OK will be fired.
Uber board member Arianna Huffington said she would conduct her own investigation:
Uber has faced multiple accusations of sexism. In 2014, senior vice-president Emil Michael suggested launching a smear campaign against unfriendly journalists — specifically, PandoDaily's Sarah Lacy, who accused the company of "sexism and misogyny." Uber has also faced criticism over how it handles sexual harassment and assault allegations against its drivers. In November, Uber settled a lawsuit filed in California by two women who say their Uber drivers sexually assaulted them.