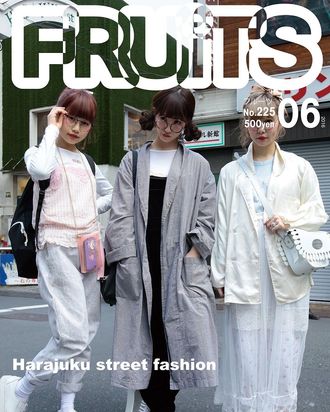 A FRUiTS cover.
Photo: Courtesy of FRUiTS
"There were no more fashionable kids to photograph," is FRUiTS editor Shoichi Aoki's explanation for the closure of the highly influential Japanese magazine he founded, after 20 years in print and 233 issues. Created in 1997, the magazine helped bring Harajuku street style to a world stage and was on top of just about every youth trend from Gothic Lolitas to cyberpunks, with a breakdown of everything his subjects wore running alongside each image. The magazine influenced a generation of fashion freaks, and those who couldn't get their hands on a copy would pore over scans online or page through the two book compilations Aoki released. (It's still going strong on Instagram for the time being, too.)

In an interview with the Japanese magazine Fashionsnap, translated by Spoon & Tamago, Aoki said that over the years, and particularly last year, he had run dry in terms of people he considered worth photographing. And here we thought "cool" was a renewable resource.