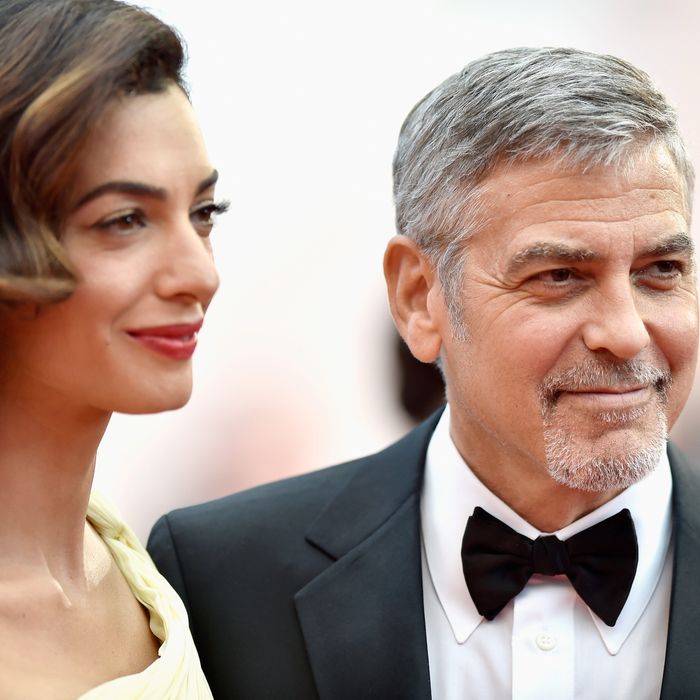 George and Amal Clooney.
Photo: Pascal Le Segretain/Getty Images
Earlier this month, The Talk's Julie Chen officially confirmed the news America has been waiting to hear: Amal Clooney is pregnant with twins. Yesterday, George Clooney spoke to the press about his wife's pregnancy for the first time, telling Laurent Weil of France's Recontres de Cinema, "It's going to be an adventure."
"We are really happy and really excited," he said. "We've sort of embraced it all … with arms wide open." Clooney noted that French actor Jean-Paul Belmondo had a child at age 70, so he's "feeling a little better about being 56 by the time" the twins arrive. His birthday is May 6, so that puts Amal's due date sometime after that. People reports that the couple is expecting "a boy and a girl" this spring.
Clooney told Weil that his friends have teased him for becoming an older dad. "There was like a table of eight guys and all their kids are away in college, and they're all sitting there being very supportive, telling me it's great and that I'm gonna love it," he said. "Then it got really quiet and they all just started making baby crying noises and the whole table just busted up laughing."
"It's going to change a lot of things, but you know, that's life," he added.