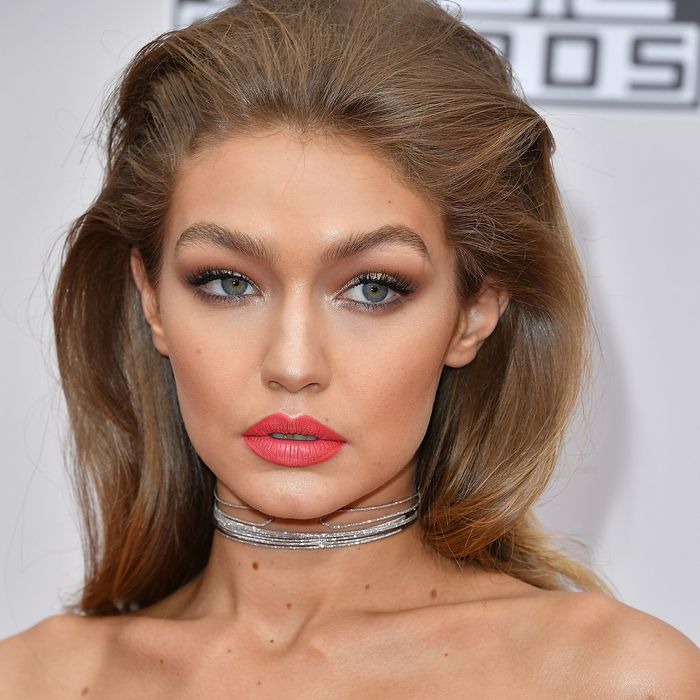 Gigi Hadid.
Photo: Steve Granitz/Getty Images
Gigi Hadid surprised her fans on Tuesday with a photo of her very own plastic "mini me." That is, there is now a Barbie doll created in her likeness. In an Instagram photo she shared on Tuesday, two identically dressed Barbie dolls appear wearing skates, denim shorts, and a Tommy Hilfiger T-shirt. Behind them are clear, blue skies and palm trees — the default backdrop often used to signal the sunny, laid-back aesthetic of Southern California. Look closely and you'll spot Hadid's signature features. Take a look:

The little reveal came the day before the slated runway show celebrating Hadid's collection with Tommy Hilfiger, Tommy x Gigi. This marks the duo's second event; their first took place last year, during New York Fashion Week. That carnival-themed show was more of an event than a typical runway show, and it came complete with a Ferris wheel (!). For their second collection, Hilfiger and Hadid headed west to more sunny skies, where their show will transform California's Venice Beach into "Tommyland." It will feature "amusement rides, local food trucks [and] musical performances," according to E! News.
Given the setting, perhaps it's fitting that Mattel give Hadid her own Barbie doll for the occasion, since there's always been something about Barbie that sits perfectly with the fantasy of Southern California. It's an image that, with its short shorts, roller blades and simple tee, Hadid's doll fully plays into. Too bad it's not for sale.