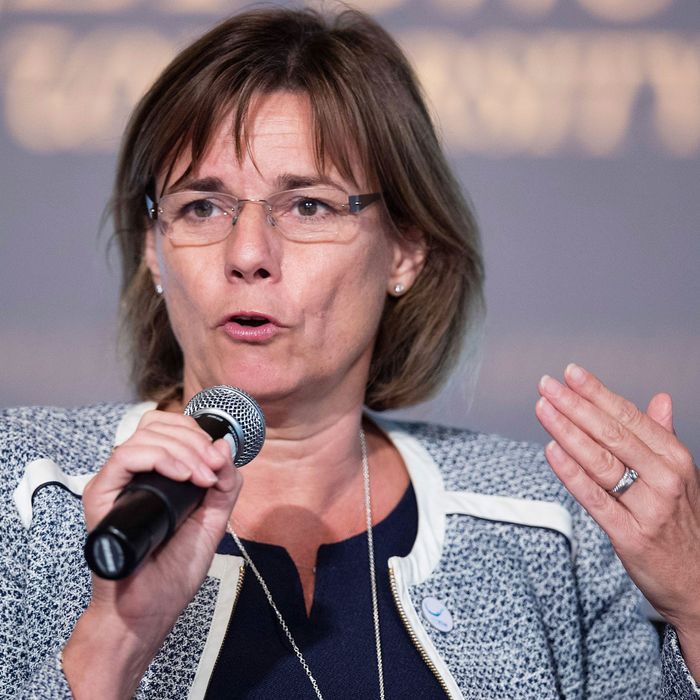 Isabella Lövin.
Photo: JIM WATSON/AFP/Getty Images
A month after President Trump signed an executive order reinstating the Global Gag Rule, which bans federal funding for international non-governmental organizations that offer abortion, eight countries around the world are banding together to attempt to counter the detrimental effects Trump's order will have on women worldwide.
Deputy Prime Minister of Sweden, Isabella Lövin, spoke with Reuters about the global initiative, which includes Sweden, Denmark, Belgium, Luxemburg, Finland, Canada, and Cape Verde. "[The gag order] could be so dangerous for so many women," she said. On March 2, a press conference will be held in Brussels for the countries to convene and discuss the funding efforts.
When the Netherlands announced the global fund in January, they estimated that the fallout of the Global Gag Rule would mean a loss of $600 million in funding worldwide, with the potential of being up to $9.5 billion should organizations providing AIDS or maternal health care even mention abortion as an option. Lilianne Ploumen, the Dutch minister for foreign trade and development cooperation, said in a statement to CNN, "This decision has far-reaching consequences above all for the women it affects, who should be able to decide for themselves if they want a child, but also for their husbands and children and for society as a whole."