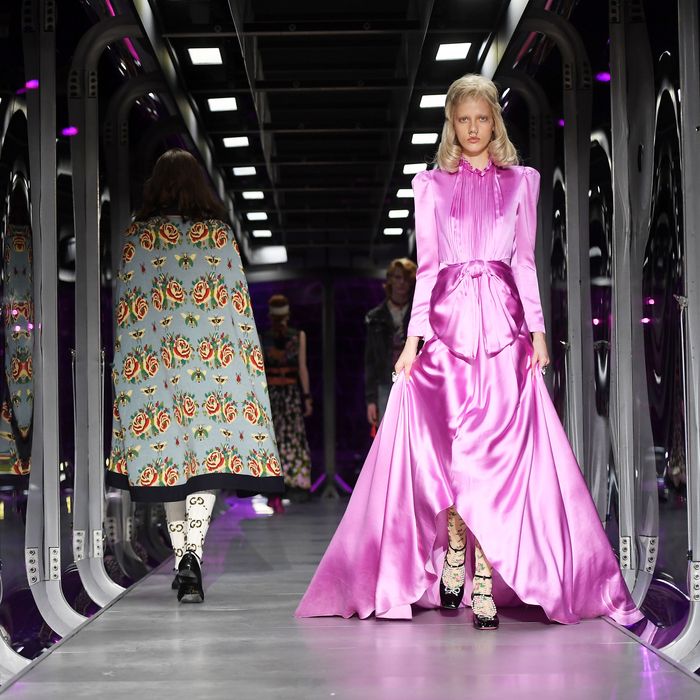 Gucci Fall 2017.
Photo: Venturelli/WireImage
"What are we going to do with all this future?" Gucci's show notes asked this season. It's a timely question, as we all hover on the precipice of … well, we hardly know what. Alessandro Michele's way of answering was to delve into the greatest fashion hits of the past, with a collection that felt like a postapocalyptic dress-up party where everyone was decked out in the detritus of past fashion moments.
In his show notes, Michele referenced the Ouroboros, the ancient Egyptian symbol of a snake eating its own tail: Everything old is new again. Fashion furiously digests and regurgitates, and why bother to pretend otherwise? So there were, for example, Finzi-Continis sweater sets and tweeds, Art Deco gowns, Wild West boots, and geisha silks and parasols, all mingled together in what Michele termed his "alchemist's garden."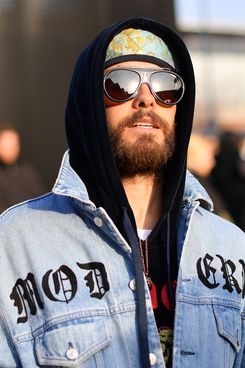 Michele stoked Illuminati comparisons with a huge, purple pyramid set, meant to evoke a greenhouse — topped with a rooster weather vane. The models walked through glass passageways. In the audience were Florence Welch, A$AP Rocky, Alexa Chung, Hari Nef, Soko, and none other than Tom Hiddleston, who's presumably in Milan to refine his Bolognese recipe.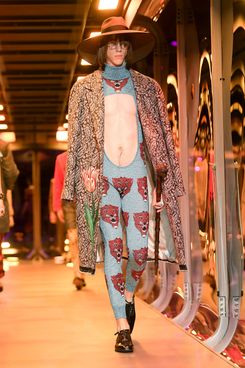 This season marked Gucci's first co-ed show, but Michele maintained his androgynous approach to dressing. Both men and women were clad in glittering body stockings, with one male model wearing a stomach-exposing glitter onesie decorated with tigers.

And in keeping with his reputation as an accessories wiz, Michele didn't stint on the extras: knitted snoods, oversized nose rings, skewed Peggy Guggenheim glasses, and huge, boxer-style belts. He showed Gucci-logo tennis sweatbands that would make Richie Tenenbaum eager for an upgrade. He also played on the logo — as he's been known to do, such as with his GucciGhost collaboration — with a Gucci T-shirt that was scrawled with the words "Common Sense Is Not That Common," in the artist Coco Capitán's handwriting. But uncommon clothes? Those were not in short supply.