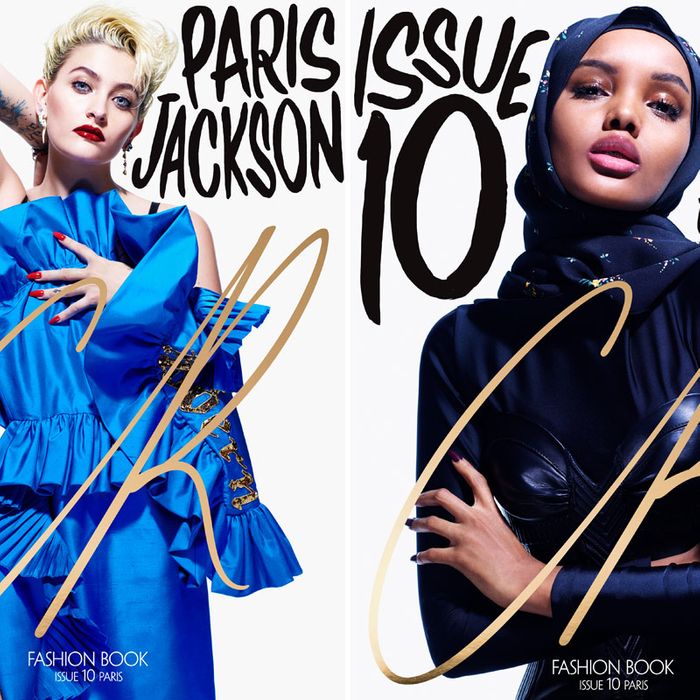 Paris Jackson and Halima Aden on CR Fashion Book.
Photo: Mario Sorrenti/CR Fashion Book
The runway-debut-to-cover transition is happening ever faster these days. After making her debut in Yeezy season five last week, Somali-American hijabi model Halima Aden is already a cover girl, gracing the tenth issue of CR Fashion Book. Carine Roitfeld reportedly styled the show, so she already had the inside track on the fledgling model.
Aden and fellow cover star Paris Jackson were shot by Mario Sorrenti, who is working with Roitfeld once again now that she has inked a partnership with Hearst Magazines. (When she left French Vogue in 2010, Condé Nast was said to have banned some of its major photographers from shooting for CR.)

Roitfeld split with longtime collaborator Stephen Gan this fall. "I wanted to be a bigger magazine," Roitfeld tells Business of Fashion in an interview today. "Stephen never liked that. Controlling everything — it's his way of working. But I'm not just fashion, fashion, fashion. I'm more open-minded than maybe people think. I want bigger visibility."
Proof that she's not "just fashion, fashion, fashion": Roitfeld is hoping to branch out into beauty with her own fragrance, which she's been working on for several years now. "I have a dream to make a perfume because that's a legacy if it works," she said. "I will never totally retire."