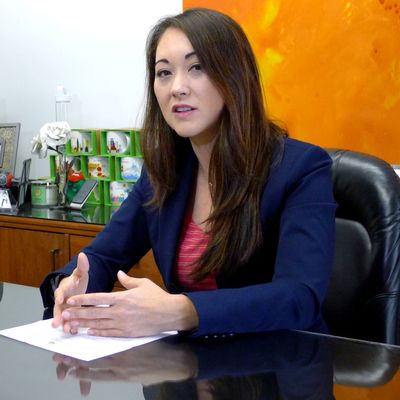 Representative Beth Fukumoto was voted out for opposing Donald Trump.
Photo: Cathy Bussewitz/AP
When Republican House Minority Leader Beth Fukumoto spoke at the Women's March in Hawaii last month, she called Donald Trump's remarks "racist and sexist." Now, she's considering a switch to the Democratic Party after her Republican colleagues voted her out of her leadership position on Wednesday.
Fukumoto told NBC that after her speech she received calls and texts from her colleagues to meet, as well as public calls for her removal as a party leader. In the end, she said the choice to leave was clear. "What ended up being very problematic for me was that my caucus and others said, 'If you want to stay in leadership, then you need to make a commitment to not criticize the president for the remainder of his term,'" she said. "And with what we've been seeing in the news with the different executive orders coming out every day, I didn't believe I could make that commitment."
The 33-year-old lawmaker had served as House leader since she was elected in 2014, and she was once seen as one of the women who'd lead the Republican Party into a new era — in Hawaii, Republicans hold only six House seats and none in the Senate. But in a letter to her constituents, Fukumoto said she wanted to leave the GOP and asked for their input.
Cynthia Thielen, one of Fukumoto's colleagues, was the only one who voted for her to keep her leadership role. Thielen spoke on the House floor, saying Fukumoto shouldn't be punished "for participating in the democratic process." She went on, "I'm going to be there and continue that fight but, God, I am sorry to lose our minority leader, someone I so deeply, deeply respect — the face of Republicanism as it should be, but it won't be anymore."