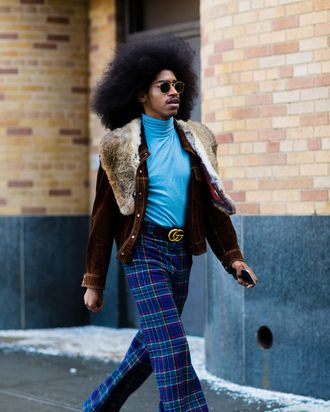 Photo: Nabile Quenum/Nabile Quenum
When taking outfit inspiration from a specific decade, commitment is key. Otherwise, you run the risk of looking like you're three months too late to a Halloween party. This Fashion Week attendee did it perfectly, taking cues from the 1970s and following with his wild hair, flared pants, and pointed-toe boots.
You could almost imagine this guy taking a turn on the Gucci runway (note that interlocking-G belt). His complete commitment to "Me Decade" dressing makes him the winner of our daily Golden Peacock Award.