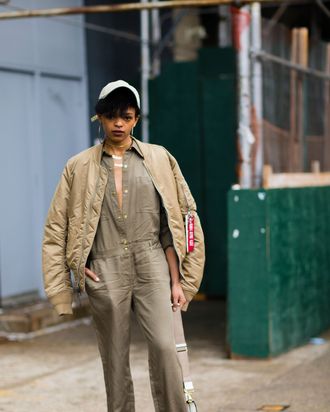 Selah Marley.
Photo: Nabile Quenum/Nabile Quenum
Celebrity influencers packed the front rows of fashion shows this season, but none of them mastered the elusive "effortlessly chic" look quite like Selah Marley did outside of the Michael Kors Collection show. The practical ensemble is a trend that we've tried to pull off ourselves, and it's not easy. Selah's combination of the Michael Kors Collection jumpsuit, a tomboyish Alpha Industries bomber jacket, dad hat, and heels brought some freshness to an all-neutral look. She also styled the jumpsuit to her unique taste, layering her own jewelry to make it more feminine and less like a uniform.
And if it makes you feel any better, even Selah had to roll up the hem of her too-long jumpsuit to make it work.