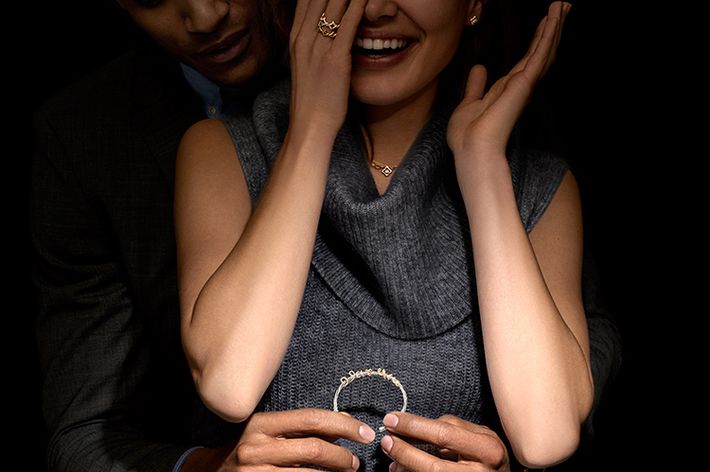 While there's nothing better than seeing a loved one's joy in response to a craftily orchestrated surprise moment, our good intentions to make them feel special and appreciated can come with feelings of pressure to pull things off "perfectly." So we asked real New Yorkers to share their successful surprise stories, and extracted a few tips to guide your next similarly sneaky ploy. One failsafe way to go beyond the expected during this season of love? Explore David Yurman's Whispers collection, which features the brand's classic cable design wrapped in gold-wire script. Carrying hidden messages of love, the new bracelets (below) are an ideal example of a surprise they didn't see coming. For a few more ideas, read on.
Devise multiple layers of deception for the biggest payoff.
As my girlfriend had asked for a surprise birthday party, I needed to be clever to really 'get' her. After lying about not being able to make it to Philadelphia, where she lives, her best friends and I, who live in New York, showed up on her porch with donuts, presents, and hugs. Fakeout surprise! For dinner, we suggested a new restaurant we knew wouldn't be able to accommodate us. She texted all of her local friends who — due to planning on my end —responded that they couldn't come. So she was already bummed out when the new restaurant told us there was a two-hour wait. I suggested another place a few blocks away, and, as we walked closer, she noticed the big table outside full of everyone she'd invited earlier. We drank wine and ate pasta for hours and sang her 'Happy Birthday' with all the other restaurant-goers and passersby. —Becca, 24

Whispers I Love You Bracelet, $850 at David Yurman
Go for the really big gesture if the stakes are high.
I met this gorgeous British guy at Pianos on the Lower East Side in 2014 and we hit it off instantly. He was living in Manchester while spending half his time working in Angola. I couldn't afford to visit, and he couldn't take any more time off. We texted, called, planned big trips we never went on, and sent each other song lyrics and YouTube videos, wallowing in our long-distance love. In 2015, I planned an elaborate 'me-cation' to Paris. A month before, he surprised me by buying a ticket to meet me there. It was the first time we'd seen each other since first meeting, and it was pure magic. A week after he left, he called and asked me to be his girlfriend. —Kristyn, 28
Designate someone to capture their priceless reaction.
An amazing surprise was when my dad made the announcement to my family this past Christmas that my sister Erin was starting the adoption process. At the time, we did not know that my aunt was recording his speech. Having a video of it now and being able to re-watch all of the reactions and crying from everyone made it extra special. —Melissa, 33

Whispers Je T'aime Bracelet, $850 at David Yurman
Avoid suspicion by crafting a creative — but believable — alibi.
I had moved back to New York for a job and my girlfriend was still in L.A. She'd agreed to move back to New York with me, but was sad about leaving a city she loved. I'd been thinking about proposing for awhile, but decided then to do it in L.A., so she'd always have that memory there. The week before the move, I called her friends and family in L.A. and asked them to play along; no one threw her any going-away parties and they all acted like her leaving wasn't a big deal. I flew out to help her pack up our old place (we were driving back cross-country) and on the night before we left town, we had plans to go to dinner with a small group of friends. I told her I had to meet up with an old boss before we left and said I'd be back soon. Then that I'd meet them at the restaurant. Then that I was going to be late. Then that I just couldn't get away. She eventually got fed up — I knew she would — and drove to the bar where I said I was, stormed up to me, and asked where my old boss was so she could chew him out. I proposed instead. Her face went from angry to confused to (finally) happy. At a restaurant nearby, all her friends and family were waiting for an engagement-slash-going-away party for the ages. We hit the road the next morning. —Pete, 30

Whispers Te Amo Bracelet, $850 at David Yurman
For guaranteed success, zero in on what means most to them.
On my mom's 60th birthday weekend, my parents had a wedding to go to in Boston. My sister lives there, so they planned a quick dinner with her, but my mom was so bummed to not be spending her birthday with the whole family. Secretly, all of us remaining four siblings took off work on Friday and drove to Boston. Despite our sister saying it would take four hours tops, we arrived in Beacon Hill seven hours later and had to change in a parking garage near the restaurant. When my mom walked in and saw us all, it was like she'd seen someone rise from the dead. She burst into tears, speechless. The next day, she left for the wedding with a huge smile. —Katherine, 37
This is paid content produced for an advertiser by New York Brand Studio. The editorial staff of The Cut did not play a role in its creation.