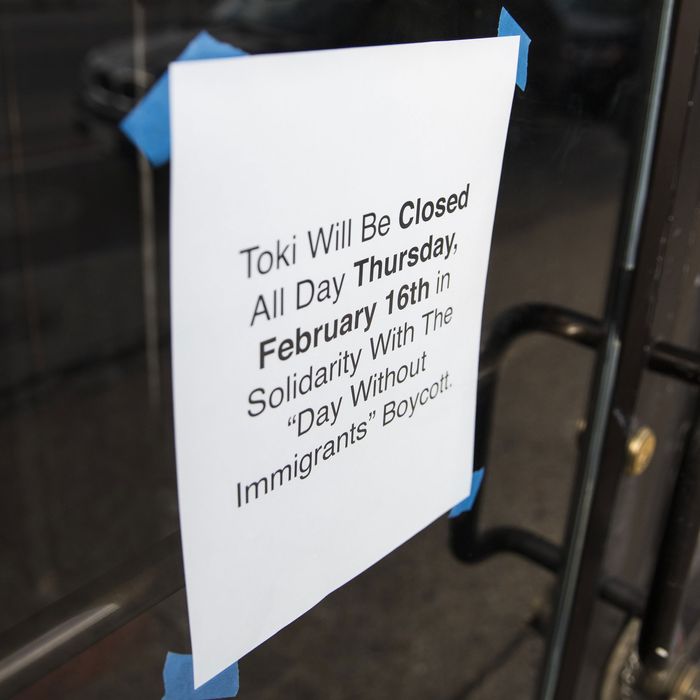 A sign is tapped to the door of Toki Underground announcing it will be closed on Thursday in order to support its staff.
Photo: Anadolu Agency/Getty Images
On Thursday, stores and restaurants across the country closed to protest Donald Trump's anti-immigrant policies. The #DayWithoutImmigrants was designed to underscore just how much the country's economy is dependent on immigrant workers, and it coincides with a surge in immigration raids in several states.
Dozens of restaurants and chains in the nation's capital announced they'd be closed or operating with limited hours Thursday, and at least two D.C. schools will reportedly be closed. Other businesses in cities such as Philadelphia, New York, Houston, and Raleigh, North Carolina, will also close in solidarity with their employees, and activists are reportedly planning a march on the Capitol at noon.
"Who we work with is our family, and this is a cause that really speaks to a large part of our family," said Matt McQuilkin, director of operations at a D.C. pizza chain that closed three of its four locations to show solidarity with staff who chose not to work. "We felt that this was the best way to support that cause."
Andy Shallal, an Iraqi-American restauranteur, told ThinkProgress that he hopes the protests affect real change. "We hope that the attention we draw to this issue will help us move forward on true immigration reform that isn't just about building a wall or hiring more security guards," he said. "That it will really be about true reform that takes into account the human aspect of immigration ."
Last week, federal agents raided homes and workplaces in multiple states and arrested hundreds of undocumented immigrants, although authorities say the raids were planned before Trump started signing executive orders. Under President Obama, immigrants with criminal backgrounds were targeted for deportation, but last month Trump signed an executive order that prioritized anyone and everyone in the country illegally. So far at least two high-profile cases have highlighted the plight of immigrants in the Trump era: one in which a mother who'd been in the country for 20 years was arrested and deported, and one in which a domestic violence victim was arrested at a courthouse in Texas.