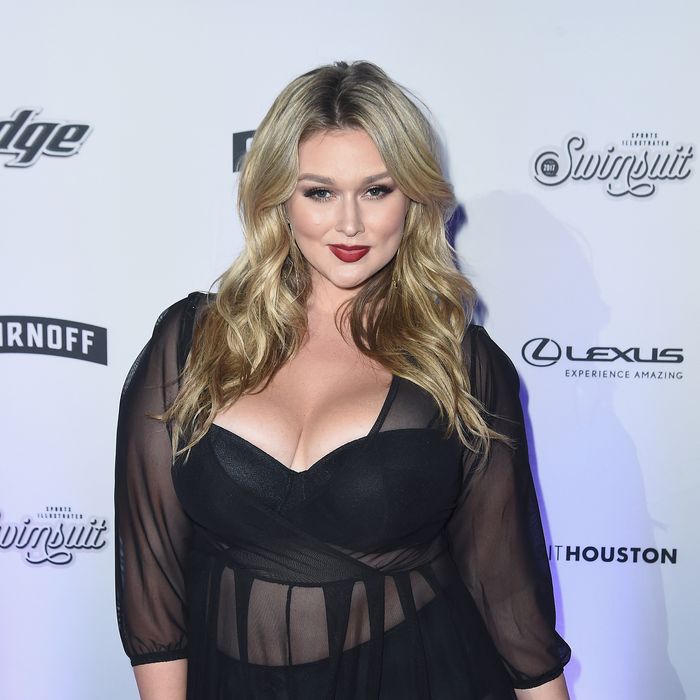 Photo: Nicholas Hunt/Getty Images for Sports Illustra
Much of the conversation about the latest Swimsuit Issue of Sports Illustrated has focused on Kate Upton, who has now thrice graced the magazine's cover. Yet, the inside of the issue is also revealing some fresh faces and some boundary-pushing firsts for the publication. Hunter McGrady is one of the notable rookies in the Swimsuit edition who came to be in the magazine as a result of the Model Search contest. And aside from looking quite sultry while wearing nothing but body paint for the photo shoot, McGrady also just so happens to be the curviest model ever featured in the magazine.

Per her Wilhelmina Models stats, McGrady is five-foot-eleven, with a 45-inch bust and a 38-inch waist, making her the curviest model featured in the swimsuit edition, according to Yahoo! Style. Last year, Ashley Graham made news when she became the first size-16 model to grace the cover of the magazine's swimsuit edition. Graham's inclusion in the issue was greatly lauded as a step forward in the body-positive movement and it's in that vein that McGrady is viewing her inclusion in the issue. For her, participating in the shoot was an opportunity to empower other women, she told Yahoo! "I want women to pick up what is the considered the sexiest magazine issue and feel inspired," McGrady said. "There's someone in it who looks like them, who isn't the traditional model they see." She also said she felt confident and sexy in her skin, "Not despite of my body but because of my body."
On her Instagram account, McGrady elaborated more on her message to women, writing: "Women, for anyone who has ever felt uncomfortable or insecure because of rolls, or stretch marks, or cellulite, or acne, or felt like you didn't measure up because you weren't represented in the magazines – THIS IS FOR YOU! You are beautiful. You are STRONG."

Message received.