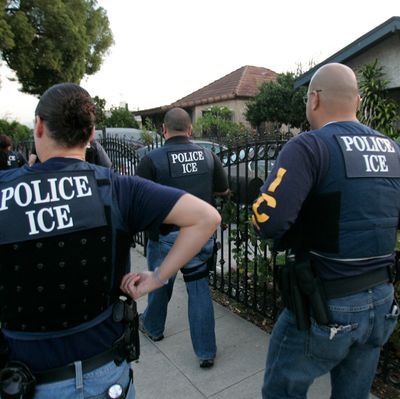 ICE officers on a raid in Los Angeles in 2007.
Photo: Allen J. Schaben/LA Times via Getty Images
Last week, an undocumented immigrant was arrested at the courthouse in El Paso, Texas, just after she was granted a protective order for domestic abuse. KVIA reports that the alleged abuser called U.S. Immigration and Customs Enforcement agents to let them know his ex would be at the courthouse.
A criminal complaint filed on February 9 says that the woman was arrested outside the courthouse, but El Paso County attorney Jo Anne Bernal says there were six ICE agents waiting for her inside the building.
The complaint says that the woman has been deported six times since 2010, following arrests for crimes including false imprisonment, assault, domestic violence, and possession of stolen mail. She is currently held at the El Paso County Jail under a federal ICE detainer. Her alleged abuser is serving a prison sentence for forgery of a financial document.
Bernal told the El Paso Times that her office cooperates with federal agents on serious criminal cases, but ICE should not be picking people up outside protective-order courts. She and other county officials are worried that news of the arrest will prevent other victims from coming forward.
"Our clients come to us at the lowest point in their lives," said Bernal, whose office represents domestic abuse victims seeking court protection from their abusers. "Many of them are so frightened of coming to us because of possible immigration concerns."
Undocumented immigrants' fears are heightened following a nationwide surge in ICE raids that saw hundreds arrested last week. ICE said the "targeted enforcement actions" were planned before President Trump took office, but he just issued an executive order that expanded the definition of who's considered a priority for deportation to the point that it could cover any undocumented immigrant.
Last week's actions included the deportation of an Arizona mother of two American teenagers, who had been convicted of using a fake Social Security number at work, and the arrest of a 23-year-old in Washington state who had been granted protection from deportation under the Obama administration's Deferred Action for Childhood Arrivals program. An ICE spokesperson claimed that he's "a self-admitted gang member."
On Wednesday, Jeanette Vizguerra, an undocumented immigrant whose three young children are American, said she is taking sanctuary in Denver, Colorado's First Unitarian Church to avoid deportation. ICE has turned down her request for a stay of deportation, but under federal policy agents are supposed to avoid churches and other "sensitive locations."
People across the country are expected to stay home from work and school, and not shop, on Thursday to protest the Trump administration's policies on undocumented immigrants and the travel ban. Those taking part in the "Day Without Immigrants" also hope to highlight the role immigrants play in American life.