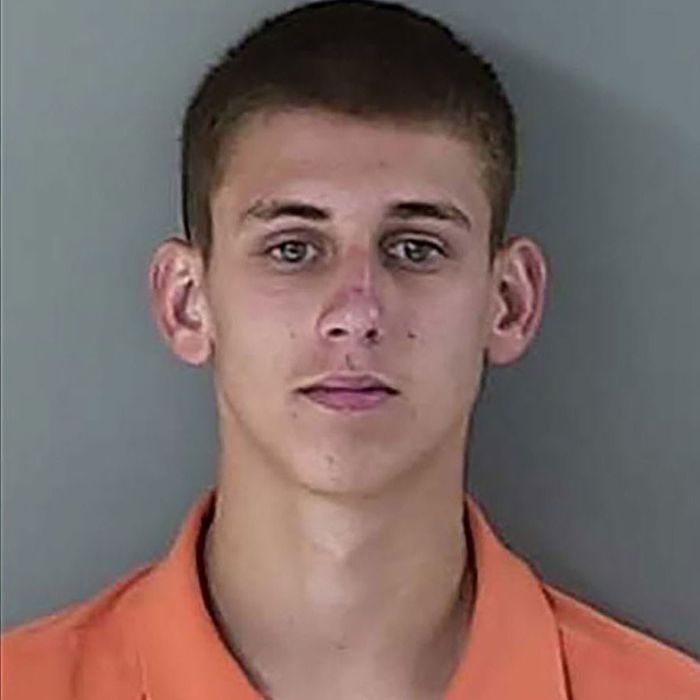 Cody Herrera.
Photo: Twin Falls County Jail
As part of 19-year-old Cole Herrera's sentencing for statutory rape last week, Judge Randy Stoker of the Fifth District of Idaho ruled that a condition of his probation included no extramarital sex.
Per the Twin Falls Times-News, Herrera pleaded guilty to raping a 14-year-old in May 2015. While he was sentenced to five to 15 years in prison, Stoker opted to send him to a rehabilitation program instead. If Herrera is unsuccessful, he'll go to prison; if he completes the program, he'll go on to probation, where he'll be facing the celibacy requirement.
"If you're ever on probation with this court, a condition of that will be you will not have sexual relations with anyone except who you're married to, if you're married," Stoker explained.
Herrera claimed that he had 34 sexual partners while the case was being investigated. That contributed to Stoker's ruling, with the judge saying, "I have never seen that level of sexual activity by a 19-year-old."
As for the legal aspect, Idaho actually does have an old fornication law on the books in which unmarried people who have sex with each other can face up to a $300 fine and six months in prison. As far as actually enforcing it, that may prove more difficult.