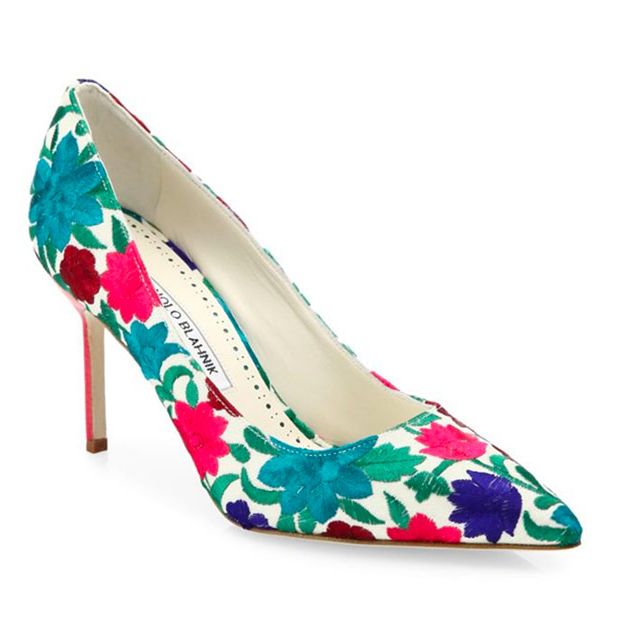 Let me start by saying this: I meant to buy a perfectly reasonable pair of suede slingbacks. And by reasonable, I mean something in navy, or beige — which would complement the sea of oatmeals and creams hanging in my closet — and that cost no more than $200. But I'm getting married in a few weeks, and planning a wedding does funny things to your brain. While "normal me" would never flirt with a pair of shoes that cost more than a month's worth of groceries — I once had a minor heart attack buying a silk dress from Club Monaco — "wedding me" easily floated over to the Manolo Blahnik section of Saks. And that's when I saw them: a pair of pointy-toe pumps with floral embroidery and a pink heel that would go perfectly with my emerald-green rehearsal-dinner dress.
I ran my fingers over the stitching and soft leather sole, thinking about how completely ridiculous it would be if I bought them. For one thing, I'd never treated myself to a designer anything, not even a handbag or trench coat that would actually fit in with my existing wardrobe. For another, my feet are a size 10 — so making my first substantial fashion purchase a pair of shoes felt extra crazy; usually, I just want my big boats to blend into … I'm not sure what. The ground, my legs, the air. It doesn't really matter, just please don't look.
And yet, in an amateur move, I tried on the Manolos "just to see." I expected to shove my feet into these beautiful creations like the stepsisters in Cinderella, and actually laughed out loud when the very kind salesperson brought out a size 41 (that's U.S. 11, for those keeping score at home) along with the size 40 I requested. Turns out, he was spot-on — the shoes run small, and I needed to go a full size up. "I'm shocked you even have a size 11!" I said. He smiled and nodded.
When I walked over to a mirror, I knew I was done for. The shoes looked elegant, not massive and clumsy, and they just felt so good. I imagined myself stepping into this new phase of my life in those perfect heels, and I thought about younger "New York me" — the girl who spent her 20s in awkward H&M pencil skirts and plain Nine West heels, working brutal hours in a city that can gut you — and felt a twinge of, Well, look at us! And the thing is, now, at 33, I could afford something special, something decidedly not oatmeal. I'd earned that. So with slightly sweaty palms but also a sense of giddiness, I handed over my credit card. Yes, the shoes are totally impractical — the cotton upper is white, and sure to get dirty; the floral print is much more proper than my usual vibe; and the three-and-a-half-inch heel is a solid three-and-a-half inches taller than the flats I typically live in. But every new chapter deserves a little celebration, and these shoes, they are my one-woman party.
If you buy something through our links, New York may earn an affiliate commission.