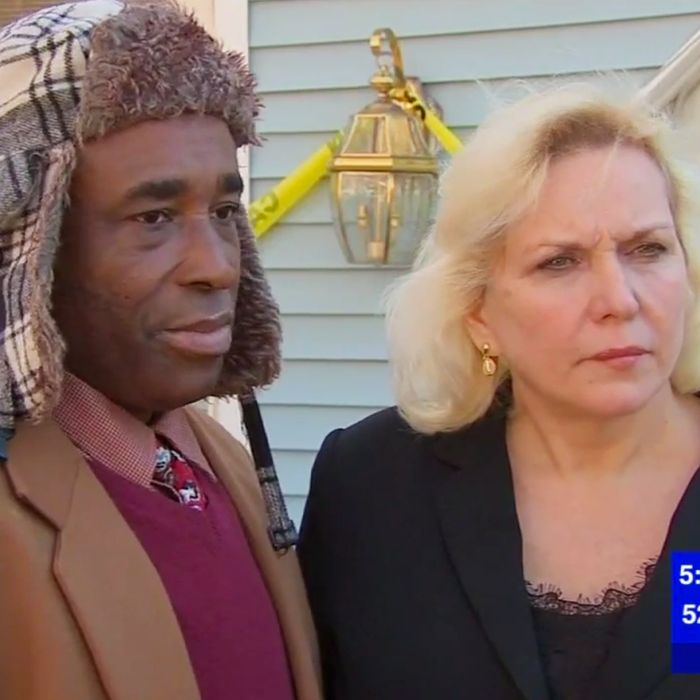 Lexene Charles and Heather Lindsay.
On January 14, an interracial couple's garage in Stamford, Connecticut, was spray painted with the N-word. Heather Lindsay says that it's not the first time her home has been vandalized, or that neighbors have directed that slur at her husband, Lexene Charles — and so she told the Stamford Advocate that she's not removing it until the police "do their job" and "not just cover it up and sweep it under the table as they have done in the past." As a result, she's received a blight citation from the City of Stamford, at a fine of $100 per day.
Police have been investigating the case, but have been unable to find witnesses or security footage of the act in question. Lindsay has refused offers to have the slur covered up for free.
"The neighbors were very upset when the incident occurred and truly felt for the couple," Ted Jankowski, Stamford's director of public safety, told the Advocate in an email. "However, the residents who have condemned the racial incident are upset and are complaining about continuing to see the racial slur and how it is disturbing the peace in the quiet neighborhood."
The blight citation reads:

"You are directed to remove, correct, or abate the above violations within seven (7) calendar days from the date of this notice. Any failure to remove, correct or abate the violations, shall result in the issuance of a citation in accordance with the ordinance with fines imposed of one hundred dollars ($100.00) per day for each day the Blighted Property remains in violation, which can be enforceable as a lien on your property, and which may also be converted into a Court Judgement, and may cause the removal or abatement of the violation at your expense."

In a press conference outside of the home, the president of the Stamford NAACP, Jack Bryant, said this incident would have "a lasting effect not only on the family residing in that house, but also on Stamford as a community."