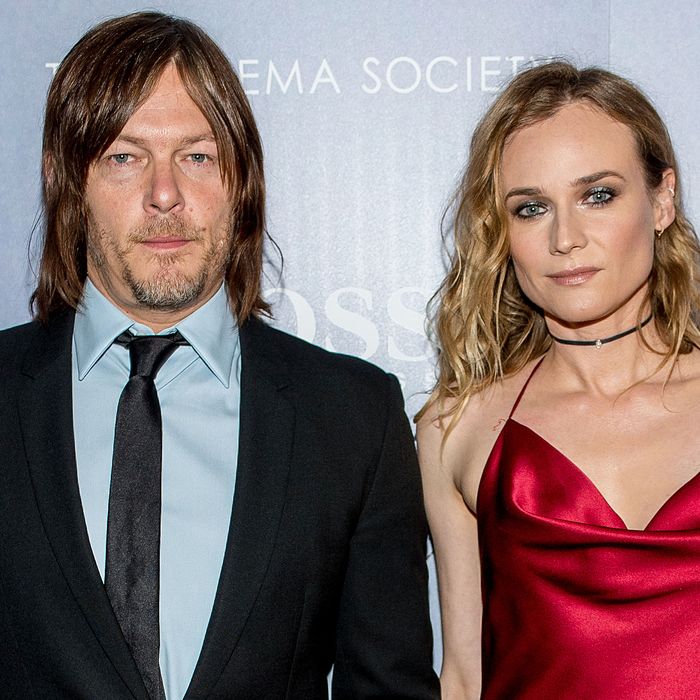 Norman Reedus and Diane Kruger.
Photo: Roy Rochlin/Getty Images
TMZ and the Daily Mail just published several photos of Diane Kruger and The Walking Dead's Norman Reedus returning from a "romantic road trip" in New York City. The photos, which you can view here and here, show Kruger and Reedus unloading bags from Reedus's Porsche — pretty innocuous, unless you consider the couple's reportedly scandalous past.
Back in December 2015, when Kruger was still dating her former long-term boyfriend Joshua Jackson, the New York Daily News reported that she was seen making out with Reedus at an East Village dive bar. Per the News:
We're told the pair — who co-starred, along with Jackson, in this year's movie "Sky" — showed up at 12th Street Alehouse around 1:30 a.m. … "They were laughing and having fun and then she just literally got out of her chair and straddled him and we were all like, 'what the hell,'" said one stunned onlooker. "They were all over each other. She was a lot more aggressive than him."
Kruger declined to comment on the story at the time (Reedus's publicist denied the make-out), but six months later, Kruger and Jackson broke up. Since then, Kruger and Reedus have been spotted at the same parties a couple of times, and in December 2016, a year after the initial incident, Kruger showed up to Reedus's photo exhibition in Paris.
Now, TMZ reports, it looks like Kruger and Reedus have "taken the next step" in their relationship. Jackson, meanwhile, was spotted getting "cozy" with a "mystery brunette" at Sundance last month. So, hrm, everything is probably all right.