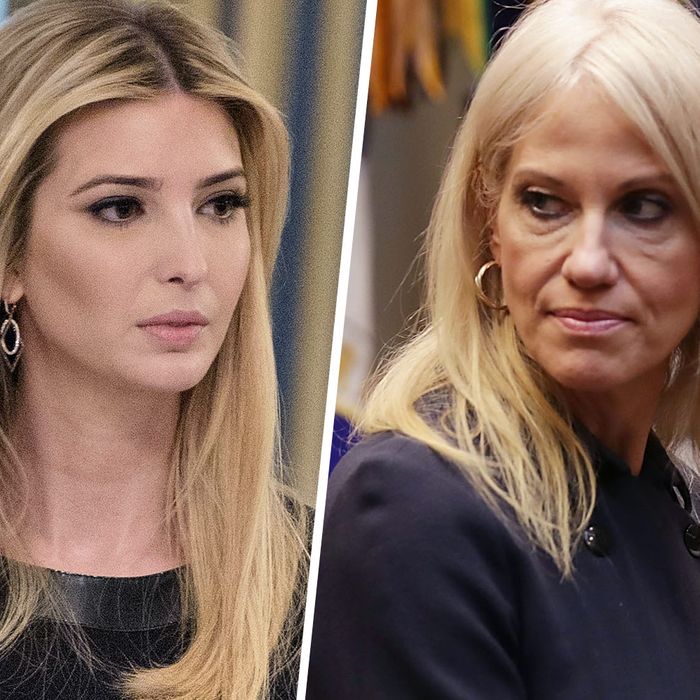 Ivanka Trump allegedly rebuked Kellyanne.
Photo: Getty Images
Last week, Kellyanne Conway kind of, sort of, definitely violated federal ethics law when she told Fox News viewers to "go buy Ivanka's stuff" during a TV appearance. She'd been discussing Nordstrom's decision to drop Ivanka's line, and she defended the first daughter as a "champion for women empowerment [and] women in the workplace."
Conway was hit with a formal ethics complaint thanks to her free commercial, and it seems Ivanka herself wasn't pleased with the effort, either. A source close to Ivanka told Politico that she'd "scolded" Conway for "dragging her brand into an ethics mess and told her not to mention it again on TV." According to the anonymous source, "This was a continuation of a conversation that Ivanka Trump had with her father weeks earlier about leaving her business out of the politics, a conversation that Conway wasn't aware of." (Press Secretary Sean Spicer later said Conway had been "counseled" regarding her remarks.)
The president also responded to Nordstrom's announcement, saying the retailer had treated his daughter "very unfairly," but despite the increasing number of stores distancing themselves from her line, Ivanka has said she "never politicized" her brand. The sooner Conway takes that into account, the sooner she and Ivanka can go back to gifting each other campaign-themed jewelry.