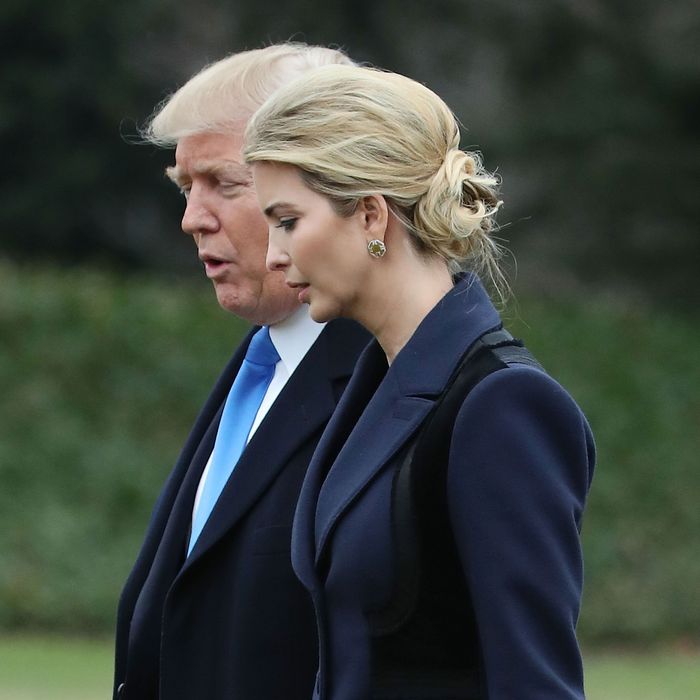 Ivanka Trump and President Donald Trump.
Photo: Mark Wilson/Getty Images
Ivanka Trump may not be formally serving in President Donald Trump's administration, but on Thursday night she took her first steps toward influencing policy since her father's inauguration. The eldest Trump daughter hosted a dinner party at her home for high-profile CEOs and business leaders to talk about women in the workforce and paid family leave, Politico reports.
Among the guests at her Kalorama home on Thursday were Walmart CEO Doug McMillon and Ernst & Young CEO Mark Weinberger, the two men President Donald Trump picked to advise him on the topic of women in the workforce. The guest list also included JPMorgan CEO Jamie Dimon, Johnson & Johnson CEO Alex Gorsky, General Motors CEO Mary Barra, and the former Goldman Sachs partner who recently became an adviser to Ivanka and her husband, Jared, Dina Powell.
In January, Ivanka stepped down from the Trump Organization and her apparel and accessories brand to focus on settling her family into their new home in D.C., in addition to working on "leveling the playing field" for women in the business world. Since then she's hosted a few low-key events, including a similar dinner for powerful businesswomen at Wendi Murdoch's apartment before the inauguration to discuss the realities facing women in business. Politico notes that although this is now the second instance of Ivanka "leveraging a unique network and powerful perch to support her father's administration," she has still remained silent on his more controversial orders, such as his immigration ban.