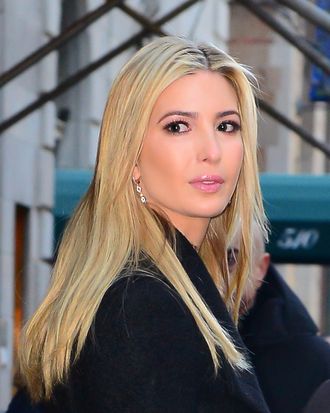 Photo: Raymond Hall/GC Images
Earlier this week, news broke that Nordstrom is dropping the Ivanka Trump brand once the items still left in stores are gone. Over the weekend, both the chain and the brand have issued lengthier responses to these reports.
An email from a Nordstrom rep to Racked elaborated: "We've offered the brand in different categories and divisions (Shoes, Apparel, Accessories, full price and off price, online and in-store) … Because of variations of when previous buys were made, when they're delivered, and how fast they sell through, we'll continue to have it available for a while."
Nordstrom confirmed on Twitter they "still have inventory on hand, so customers will continue to see product until it sells through." However, according to Racked, Nordstrom hasn't placed any orders with Ivanka Trump's line for the fall season.
A spokesperson for Ivanka Trump's fashion line responded:
The Ivanka Trump brand continues to expand across categories and distribution with increased customer support, leading us to experience significant year-over-year revenue growth in 2016. We believe that the strength of a brand is measured not only by the profits it generates, but the integrity it maintains. The women behind the brand represent a diverse group of professionals and we are proud to say that the Ivanka Trump brand continues to embody the principles upon which it was founded. It is a company built to inspire women with solution-oriented offerings, created to celebrate and service the many aspects of their lives.
So far, no one from the brand has commented on news that Neiman Marcus has dropped the Ivanka Trump luxury jewelry line from its stores.