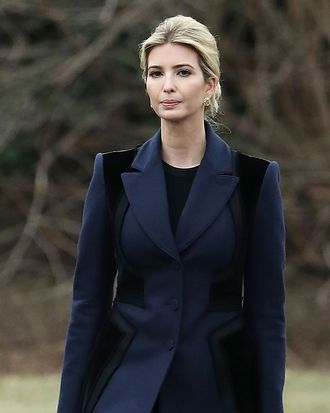 Ivanka Trump's perfume is suddenly very popular.
Photo: Mark Wilson/Getty Images
Stores like Nordstrom, Neiman Marcus, and T.J. Maxx are all distancing themselves from the Ivanka Trump brand name, but over on Amazon, her popularity is skyrocketing. Her perfume is currently the site's top-selling women's fragrance, and reviewers are making it clear they're flocking to the scent to support the first daughter in light of calls to boycott her line.
"I bought this perfume in support of Ivanka Trump," one review reads. "I had no idea how it smelled. I have to say I was pleasantly surprised and I LOVE it!!" Another reads, "I have purchased & will continue to purchase Ivanka Trump items … The perk of this scent is that it's a liberal repellent as well!!!! Yay!!!!" And one user asks, "Does this perfume contain any trace of the exquisite scent of liberal tears? Thanks!"
A 3.4-ounce bottle of the perfume sells for $36, which means those who want to #BuyIvanka can purchase it without putting an enormous dent in their wallets. There's also a $15 roller-ball option, which is currently the third-top-selling women's scent.
Ivanka has said she doesn't want to "politicize" her brand, and she reportedly got mad at Kellyanne Conway for pulling her clothing line into the partisan fray. But shoppers don't see it that way; liberals and conservatives are engaged in a kind of monetary tug-of-war over her sensible sheaths and shoes. While Trump skeptics are celebrating Nordstrom's decision, supporters are busy closing their accounts and buying "all kinds of stuff" at places like Dillard's, which still carries the line.