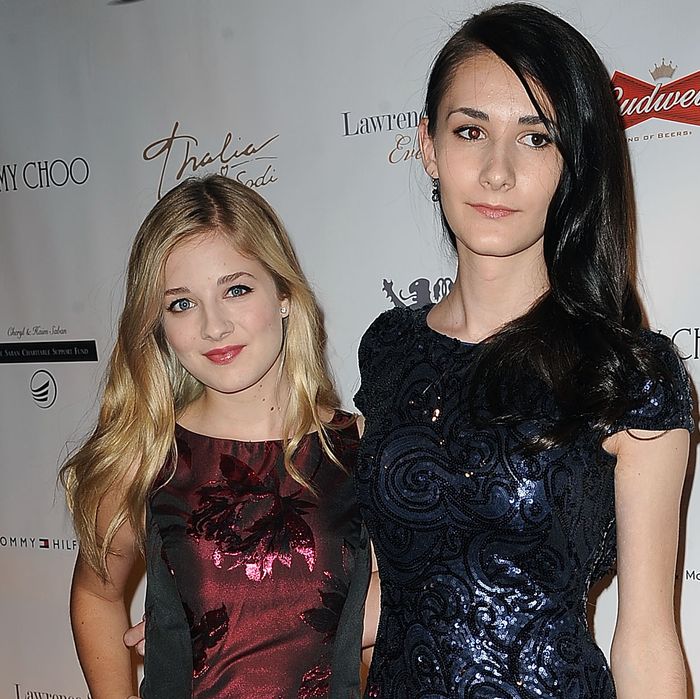 Jackie Evancho and her sister Juliet.
Photo: Chance Yeh/WireImage
Barely a month after 16-year-old Jackie Evancho sang at Donald Trump's inauguration, the America's Got Talent alum was voicing her disappointment with the president. Last week the 45th president revoked the protections put in place by President Obama for transgender students — a decision that directly impacted public-school students like Evancho's older sister Juliet, an 18-year-old senior. Though Trump did not respond to Evancho's plea on Twitter to discuss trans rights, a federal judge in Pennsylvania has made a ruling in Juliet's favor, according to The Hollywood Reporter.
The judge agreed to an injunction that would allow Juliet and other trans students in the Pine-Richland School District north of Pittsburgh to use the bathroom that corresponds to the gender that they identify with. The Western Pennsylvania district, which had received complaints from at least one student and a parent about "boys" being in the girls restroom, had told trans students that they would have to use bathrooms either corresponding to their genitals or the unisex private bathroom, which led three students, including Juliet, to file the lawsuit arguing discrimination. The preliminary injunction by U.S. District Judge Mark Hornak argued that the district had not given ample evidence to prove that other students' privacy or safety was endangered by the three trans teenagers. The case in full will be heard and decided at a later date, but in the meantime we assume the Evancho sisters are celebrating in style.