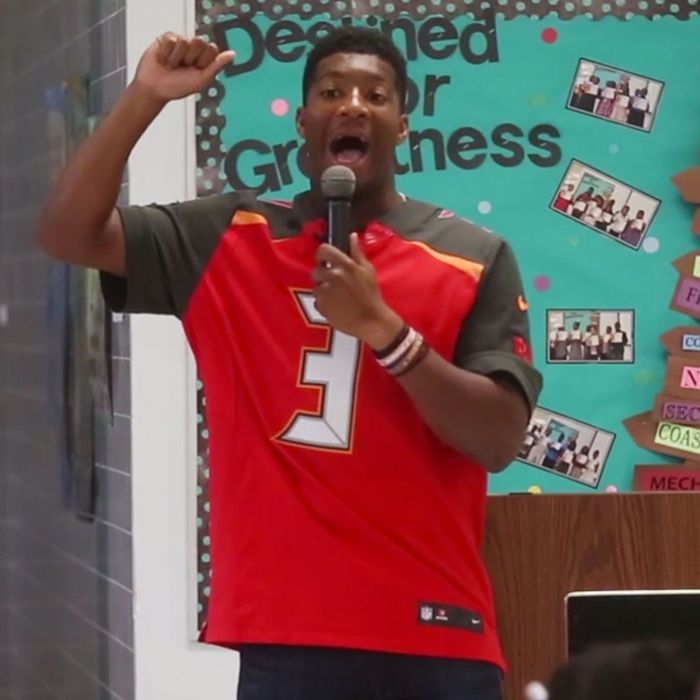 Jameis Winston, the 23-year-old quarterback for the Tampa Bay Buccaneers, spoke in front of a third-through-fifth-grade classroom in St. Petersburg, Florida, on Wednesday, and had some unfortunate suggestions for how boys and girls should act.
Video of the "motivational" speech was published on the Tampa Bay Times website. "All my young boys, stand up. The ladies, sit down," he began, off to a rip-roaring start. "But all my boys, stand up. We strong, right? We strong! We strong, right? All my boys, tell me one time: I can do anything I put my mind to. Now, a lot of boys aren't supposed to be soft-spoken. You know what I'm saying? One day y'all are going to have a very deep voice like this. One day, you'll have a very, very deep voice."
He then went on to add that the "ladies, they're supposed to be silent, polite, gentle." The class then reluctantly followed him in a chant of "I can do anything I put my mind to."
Winston later apologized about his remarks, telling the Tampa Bay Times, "I was making an effort to interact with a young male in the audience who didn't seem to be paying attention, and I didn't want to single him out so I asked all the boys to stand up," Winston said. "During my talk, I used a poor word choice that may have overshadowed that positive message for some."
Winston was accused of rape in 2012 when he was a quarterback at FSU, but he was never prosecuted or disciplined by the university. The case was settled in January.