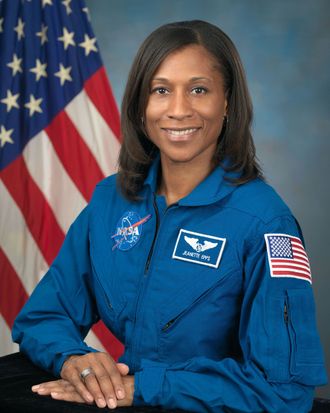 Jeanette Epps.
Photo: Courtesy of NASA
In the beginning of January, NASA announced the next team of astronauts to become crew members on the International Space Station, in 2018, and with the news, history was made. Jeanette Epps, who was a CIA technical intelligence officer before being selected for astronaut candidacy in 2009, will become the first black crew member to fulfill a mission on the International Space Station.
Epps earned her masters and doctorate in aerospace engineering at the University of Maryland and qualified as an astronaut in 2011. When Epps embarks on her journey in 2018, she will be added to the ranks of the only 14 black men and women in history to travel into space, and will become the fourth black woman on the list. But in completing a sustained mission in May, she will become the first-ever black crew member on the ISS.
On Monday, Epps spoke with the Cut over the phone from Houston about what she thought of Hidden Figures, how she is training for her expeditions, and what it feels like to make history.
Of all the training tasks you have to take on from now until May of next year, which is the most difficult?
The winter survival training is really difficult and the centrifuge training is really physically challenging. But it's really the tasks that take all of you — both mentally and physically — that are the hardest. Over the next year, we'll do a lot of emergency training and a lot of simulation training as a crew. There are three of us on the team: myself, Anton Shkrapleov, and Alex Gerst. When we're in Russia together, we'll go over what the nominal launch would look like, what to expect over a certain timeline on our mission.
Right now, we're doing spacewalk training, which entails getting into the spacesuit, and going into the neutral buoyancy lab. The pool is 40 feet deep, 100 feet wide, and 200 feet long. We go underwater and become neutrally buoyant, similar to what it will be like in a zero-g environment. We practice repairing the ISS, and you spend about six hours in the suit with about 32 ounces of water in there with us. The nice thing is that over the past seven years, I've been training and sharpening my skills in the pool, but now we're starting to learn the specific tasks we'll need on the ISS.
You were recently doing winter survival training in Russia. What was that like?
One of the things that the Russians have taught us in our training is that when we're coming back into the atmosphere, even if things are going [well] nominally, there is a chance you'll land somewhere cold. One flight landed in Siberia. So we do winter survival training where we create a mock scenario as if it happened to us. We had to learn how to build a wigwam and a lean-to, how to build a fire and signal fires. I grew up in Syracuse, so I'm used to the cold but we are out there in minus-24-degree weather, and normally you have to stay there overnight.
What do you hope people take away from a movie like Hidden Figures?
I love the fact that the movie tells the real history of how things were and how they happened, which means getting to see everyone who was a part of space exploration. The big thing that I want people to take away from a movie like that is that you can contribute to human exploration of space. You can be the next Katherine Johnson. The fact that everyone was contributing, and doing their work with excellence, shows why it's important to look at what you love to do and assess how you are contributing.
With the current ongoing conversations around women in STEM, what do you think is the most important thing to focus on?
I meet a lot of young ladies who are interested in STEM, but the big task we are facing right now is how do we keep them interested? One of the things we need to tell these young ladies is that it's important to be consistent and know who you are, no matter what else is going on around you. It's important to keep on an upward trajectory, and to not change from it or divert from it. A lot of girls are interested in STEM in elementary school, but shift away from it in middle school and high school.
I was very fortunate because I have a twin sister who was interested in chemistry and biology. Neither of our parents were engineers or scientists. In fact, my mother and my father went no further than high school. Education was one of the biggest things for our parents, even though they didn't know what we wanted to do and couldn't always help guide us. It's great having someone working along with you, someone who keeps you on that track and who fends off people who are trying to get you off that track. That's what I had with my sister.
What was the process like for astronaut candidacy? How did you know you wanted to pursue this path?
Because I was 38 at the time, it was a conscious decision. You go into an entirely different mode of life than what you had before. You're training again, getting into that physical and mental mind-set. It's like going back to school, but I knew it was something that I really wanted to do. As an adult I'm continually learning and growing every year, and qualifying for astronaut candidacy is daunting, too. You're in a group of great people who are all thinking, How did I get selected to be in this group? Everyone in this group wants to be the best in everything they do. Over time you relax, but in the first two years, you have to learn to fly the T-38, learn the Russian language, learn ISS systems, and you have to pass all those classes.
What will you miss most about Earth when you're on your ISS mission?
I'll be gone approximately five months, though potentially it could be a little more. There are several things that I'll miss on earth but mostly, my nieces and nephews, getting to have fun with them and spend holidays and quality time with them. I'll leave around late April and I'll be away all summer, but at least I'll come back right before the holidays start. But I'm sad that I will miss their birthdays.
What did it feel like to learn, as the first black person to undergo a mission on the ISS, you had made history?
It felt like a huge amount of responsibility. There have been three African-Americans who have visited ISS, but they haven't done the long-duration mission that I am undertaking. I'll be the one spending the longest time on the ISS. As a steward, I want to do well with this honor. I want to make sure that young people know that this didn't happen overnight. There was a lot of work involved, and a lot of commitment and consistency. It is a daunting task to take on.
Do women have to undergo specific training for an ISS mission?There is no separate training, except that NASA gives women the option to suppress their menses. That's because we have a system onboard where we reclaim all the water that we can, we use urine processors for that reason. Otherwise, there is really no difference between men's and women's training for a mission on the ISS.
This interview has been condensed and edited for clarity.