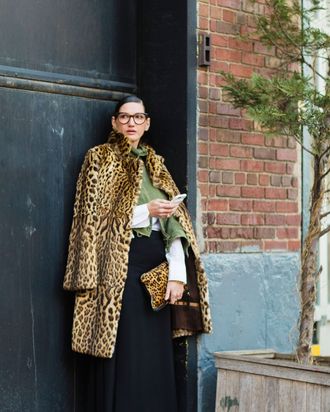 Jenna Lyons.
Photo: Nabile Quenum/Nabile Quenum
The day Jenna Lyons wears something we don't love is the day we give up every article of J.Crew clothing we own. Luckily, it doesn't seem as if that time will ever come. Yesterday at Fashion Week, Lyons showed up in this leopard coat and matching clutch, solidifying her as the chicest showgoer of day five.
The mixing of dressy (that coat) with casual (the army jacket) is something she does so well. And the proportions in this outfit are perfect. The long-sleeved shirt under the cropped-sleeve army jacket is a pairing very few people would be able to pull off, but Lyons masters the look. Now if she could just give us a lesson in looking so pulled together during one of the most hectic weeks of the year, we'd be set.