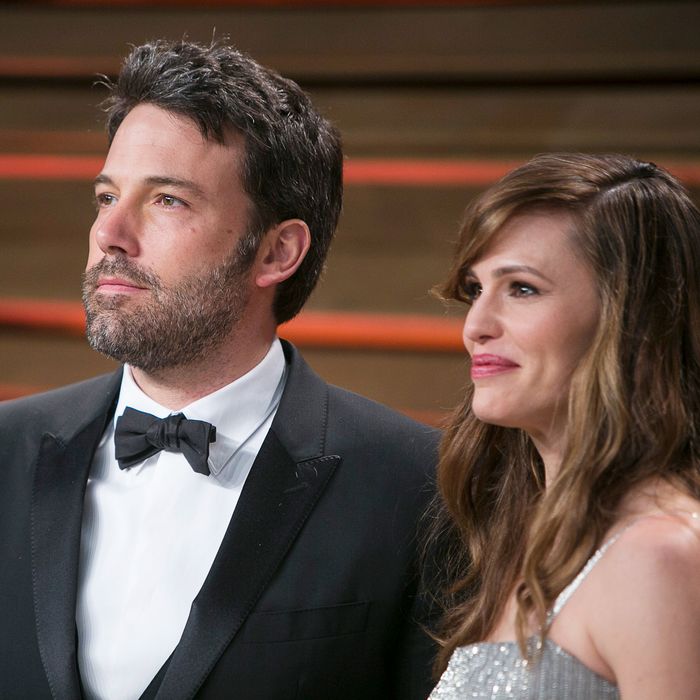 Ben Affleck and Jennifer Garner
Photo: ADRIAN SANCHEZ-GONZALEZ/AFP/Getty Images
Us Weekly exclusively reports this morning that after two years of separation, Jennifer Garner is finally ready to file for divorce from Ben Affleck. The estranged couple originally gave People the exclusive on their split, so keep that in mind, but here's Us Weekly's evidence: Affleck has apparently moved out of the family's Brentwood home.
"No matter what happens, Ben and Jen are committed to raising their family as one unit and will continue to do so as it has worked for them," Us Weekly's source claims. "They are both committed to their family."
Over the past two years, Garner and Affleck have made an effort to speak kindly about each other in public. Photographers often catch them perusing farmers markets together or going to church with their children. The exes have been so cordial, in fact, that multiple tabloids have suggested that a divorce will never really happen, and that, eventually, Affleck will win Garner back.
Us Weekly says that's all over. The tabloid also reminds readers that Garner and Affleck's breakup started out dramatically. Remember the nanny?