As Frida Kahlo 1939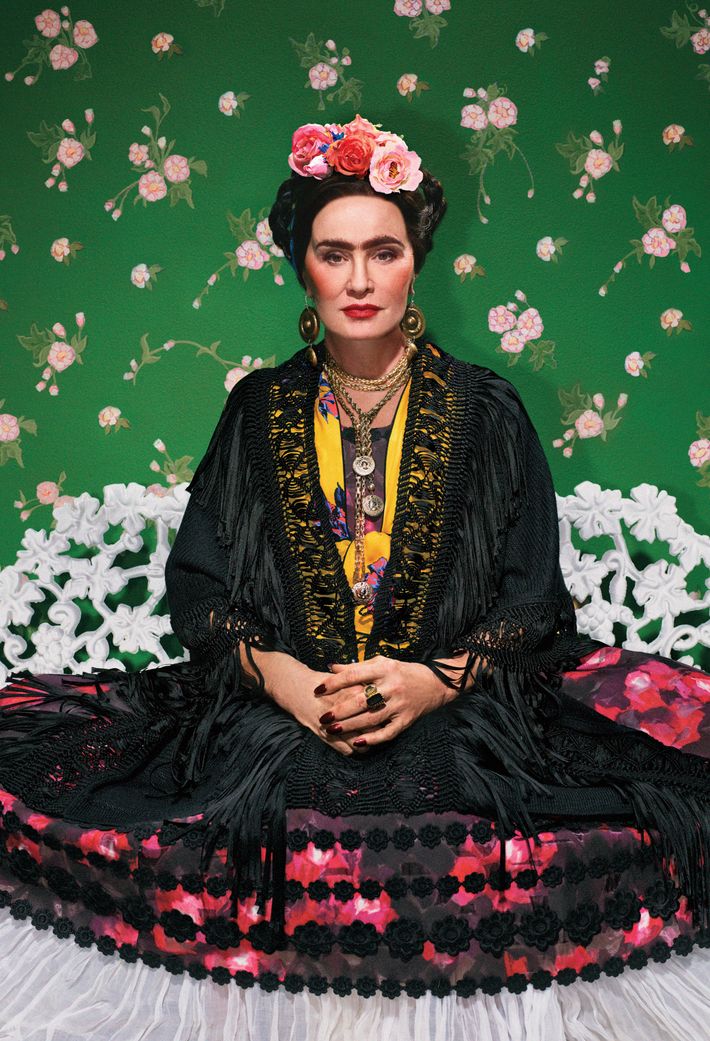 As Diana Vreeland 1977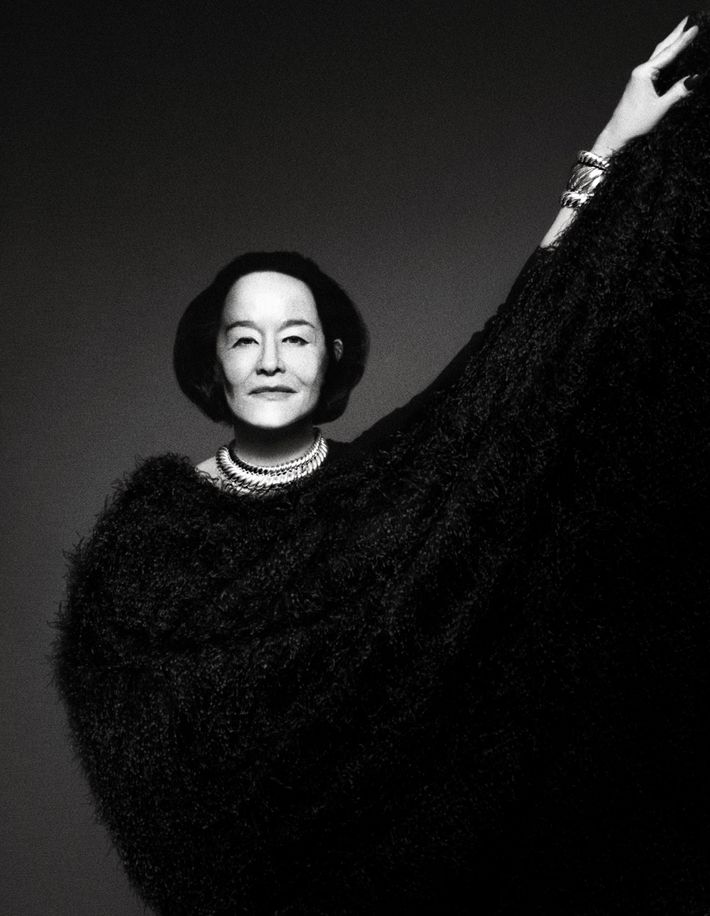 As Simone de Beauvoir
1948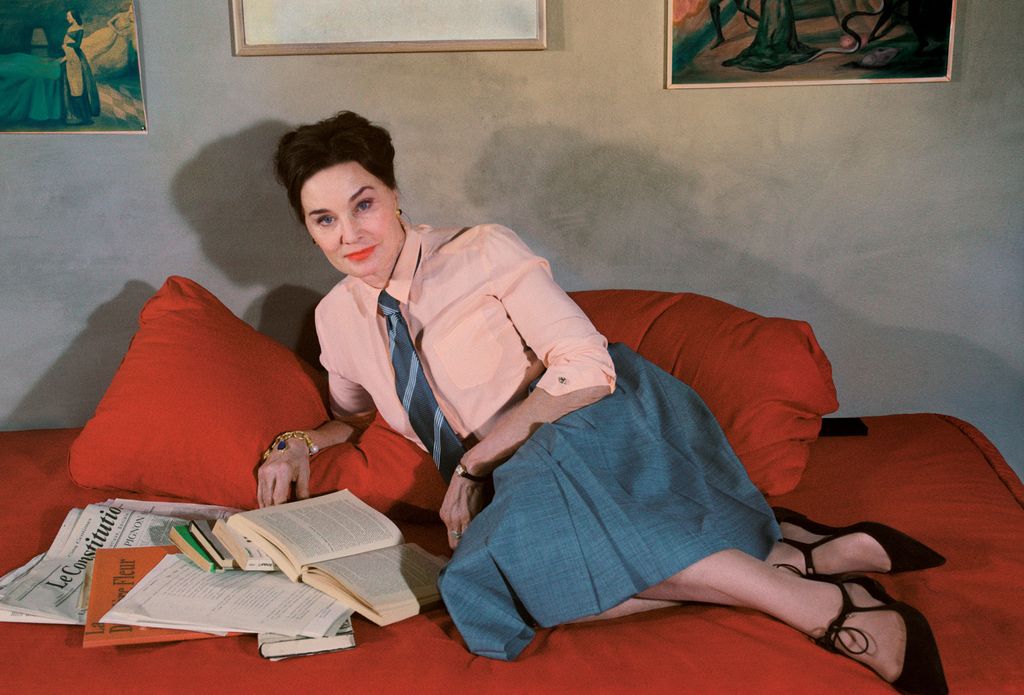 As Mae West ca. 1936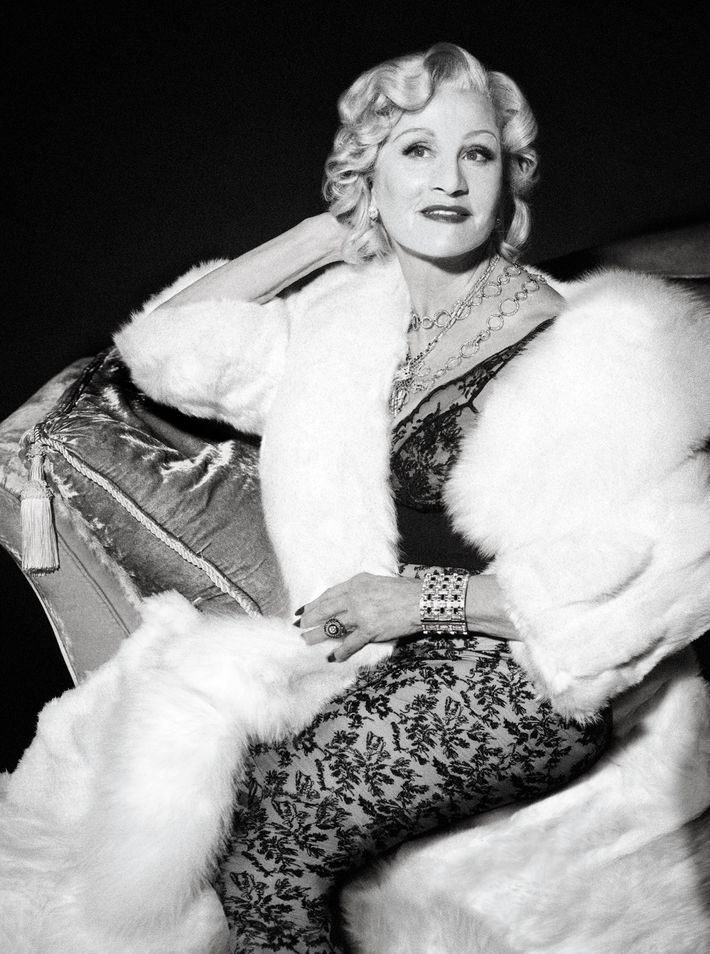 Jessica Lange was typecast once, so she knows what it's like. In her first big movie, the 1976 Dino De Laurentiis remake of King Kong, she played the stranded starlet and reluctant love interest of a giant mechanical ape. After the film was panned, Lange didn't really get another chance to prove herself until 1981, when she landed the lead role in The Postman Always Rings Twice opposite Jack Nicholson. Everyone who saw her in that film agreed that she was vulnerable and intense and brilliant and powerful — a serious actress, not the sexpot in a Pebbles outfit they'd initially taken her for. Except that sexpot in a Pebbles outfit was what the Kong part called for, and back then, Pauline Kael was alone among critics in recognizing the complexity in her dumb blonde "so innocently corrupt she's as childlike as Kong himself," an out-of-touch dreamer "with an instinct for the main chance."
Eventually, of course, she turned out to be Jessica Lange, known for her nerve-jangled vulnerability and nakedly emotional performances. But that early indignity, and probably others just like it, shaded her later roles. Lange's heroines are often simultaneously crushed and galvanized by injustice, hypocrisy, double standards, and double binds. She's aware of the elaborate mousetraps the world lays for women, and of how women negotiate them, and what that does to their psyches. As an actress, she's always been drawn to lonely, misunderstood heroines — misfits and outcasts and other marooned souls. A handful of those roles have been based on real-life people with seemingly nothing in common but this.
Lange and I are talking in a West Hollywood hotel. Outside is a torrential rain of biblical proportions. It's the morning of the inauguration, and the day before the Women's March on Washington, which makes her recall her first big protest, in Paris, in 1968. Had she not had to work on Saturday, she would have marched, too. But instead she's going to be photographed as eight legendary women artists, rebels, and trailblazers, transforming herself into — using all the tricks of modern Hollywood — Frida Kahlo, Gloria Steinem, Georgia O'Keeffe, Janis Joplin, Diana Vreeland, Marlene Dietrich, Mae West, and Simone de Beauvoir at their most iconic. The women she chose are powerful and visionary; women who changed the world. She is photographed as Steinem just as Steinem is speaking in D.C. It is the next best thing to being there.
In Feud, Ryan Murphy's new anthology series on FX, which airs next month, Lange has taken on another icon: Joan Crawford in her twilight years, after the roles have begun to dry up and the debts have started to mount. Writers aren't writing scripts for women, so she starts casting around for source material. When she comes across Henry Farrell's camp-horror novel What Ever Happened to Baby Jane?, she sends it to director Robert Aldrich, who needs a hit and recognizes its potential in a pre-feminist, post-Psycho marketplace. The only thing is that they need Bette Davis to come onboard, but Joan and Bette hate each other. The other caveat: No studio wants to make a movie starring two old broads.
Feud stars two film legends playing aging film legends who, in an attempt to revive their flagging careers, decide to play a couple of forgotten film legends: Baby Jane Hudson (Susan Sarandon as Davis), a deranged former child star of the '20s, and Blanche (Lange as Crawford), her once-glamorous, now-paralyzed and abused older sister, a former screen goddess who longs to escape her disturbed caretaker's clutches. A matryoshka doll of nesting self-referential narratives, it's a perfect metaphor for the plight of women in Hollywood tucked into a microcosm for women in society. In this infinite hall of mirrors, progress is just an illusion. "I don't think that much has changed in Hollywood for women," she says. Nor does she think that much has changed on a national political level, with the election representing a "last gasp" of "white patriarchal society holding on for dear life."
Over her career, Lange has now played famous women including Crawford; the movie star Frances Farmer; the dowager of Grey Gardens, "Big" Edie Ewing Bouvier Beale; and the country singer Patsy Cline. For her, embodying such characters always starts with research, and the physicality is crucial. "You do study every breath, every beat, but it can't just be imitation." With Crawford, "we tried to do similar makeup and hair, of course, but that was the extent of the mimicry. And the voice. She had a very melodic way of speaking. It would rise and fall, and it was studied."
Crawford was groomed as all stars were in those days, taught how to speak, walk, and stand. She was always "on." "She used to say, 'If I go out, I'm Joan Crawford.' So, it's rare that you see a moment where she lets that guard down. She has way too much at stake," Lange says.
To really play Joan Crawford, in other words, you have to play Lucille LeSueur, an unloved, uneducated, abused former chorus girl out of San Antonio, Texas, who handed herself over to be re-created from scratch, by MGM, as the imaginary Joan Crawford, a persona she used as a shield her whole life.
"What's interesting about it is you have to find those fissures, whether it's just something that registers behind the eye, or in a gesture. There's one interview, I think she's at an airport and she's drunk, and she's trying really hard to keep the MGM-speak, you know. I've beeeen and haaaave. And at one point some children come toward her and — I had to listen to it over and over again to make sure that I really heard it — she turns to them and she says [in a distinctly Texan accent], 'Well, hah're yeeew?' It was like, so right below the surface."
— CARINA CHOCANO
Cover Image Credit: Sweater by Jil Sander Navy, at jilsander.com. Vest by Katherine Hegg of Knit Nirvana, to order at 708-771-5232. Pants by Tommy Hilfiger, at tommy.com. Belt by Figue, at figue.com. Boots by Stuart Weitzman, at stuartweitzman.com. Vintage rings. Makeup by Dior and Marc Jacobs.
As Georgia O'Keeffe 1948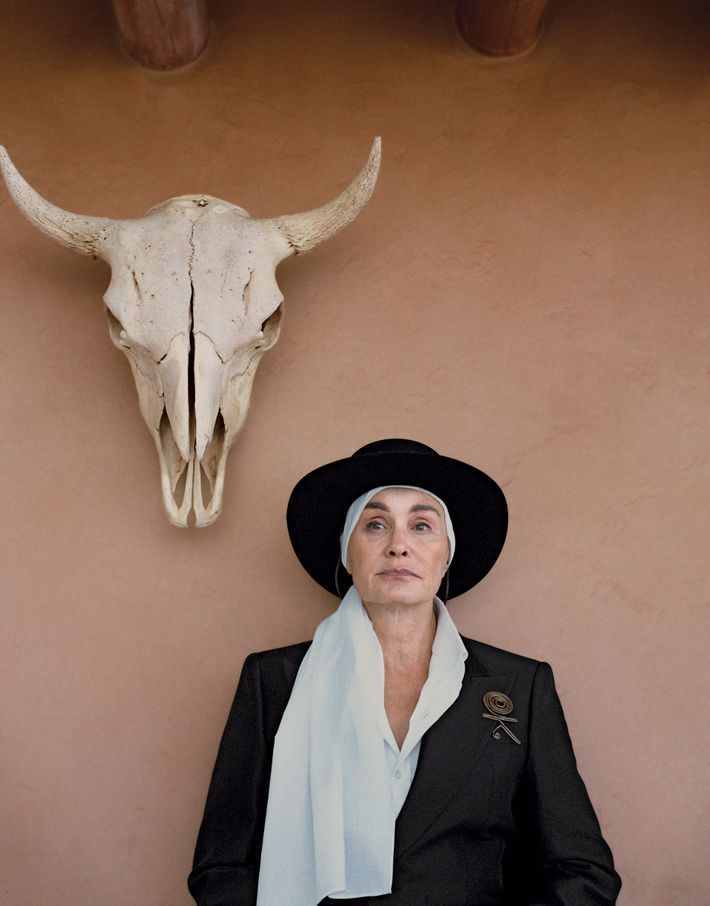 As Janis Joplin 1968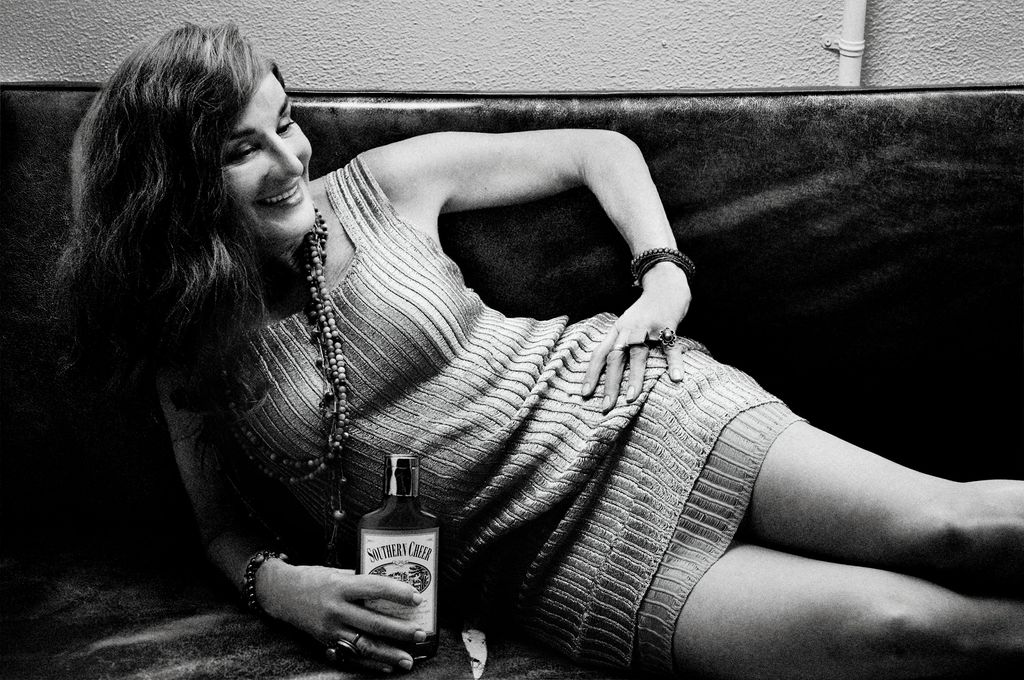 As Marlene Dietrich ca. 1930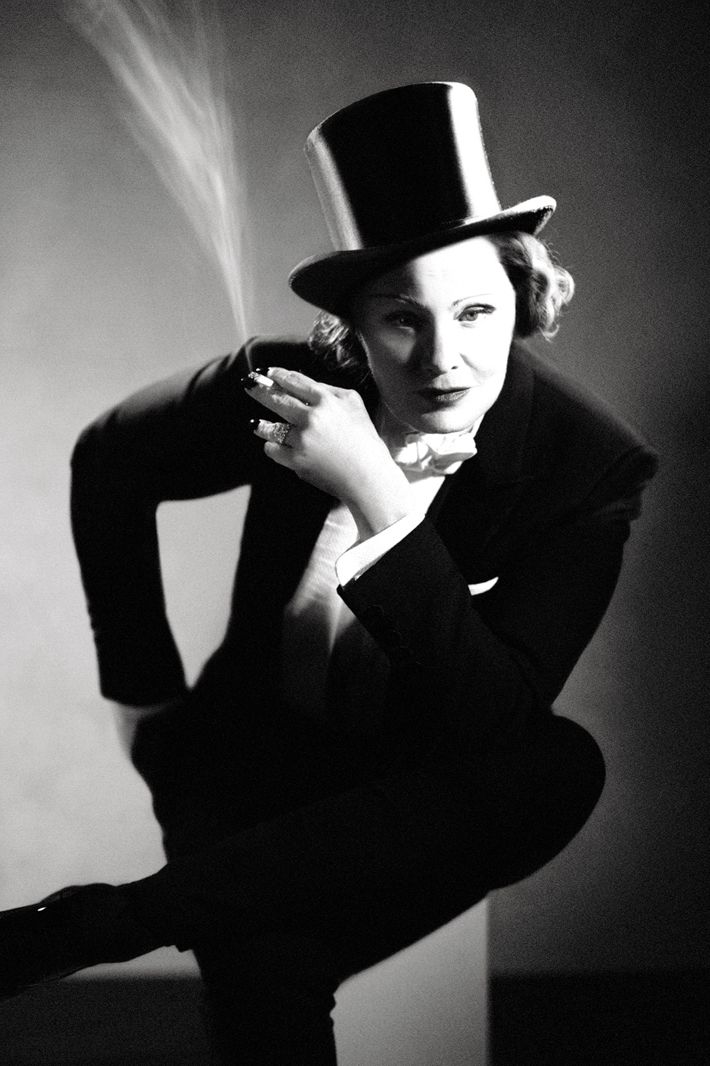 Hair and makeup by Randy Wilder; prosthetics and special effects makeup by J. Anthony Kosar and Anna Cali; set design by Rick Floyd; wardrobe styling by Leslie Pace; nails by Sarah Chue for Exclusive Artists using Chanel Le Vernis; Production by Zack Sabin/Sandro Productions. Source photographs: Everett Collection (Dietrich); CNAC/MNAM/Dist/RMN-Grand Palais/Art Resource, NY (Freund); Magnum Photos (O'Keeffe).
Get a Behind-the-Scenes Look at Lange's Transformations
The Key
Sandro became interested in the process of re-creating iconic photos with ­"Malkovich Malkovich Malkovich," a 2014 series in which John Malkovich starred in images inspired by ­photographers including Gordon Parks and Diane Arbus. For this project, photographed on January 21, as Gloria Steinem addressed the Women's March on Washington, Sandro and Jessica Lange paid homage to Steinem and seven other personal heroes.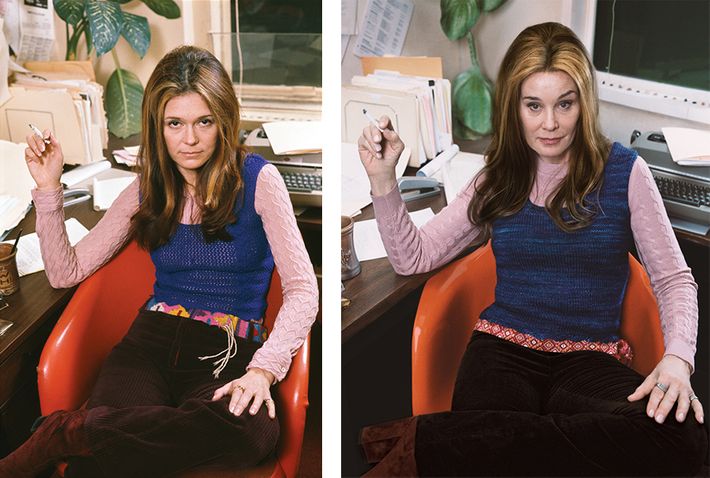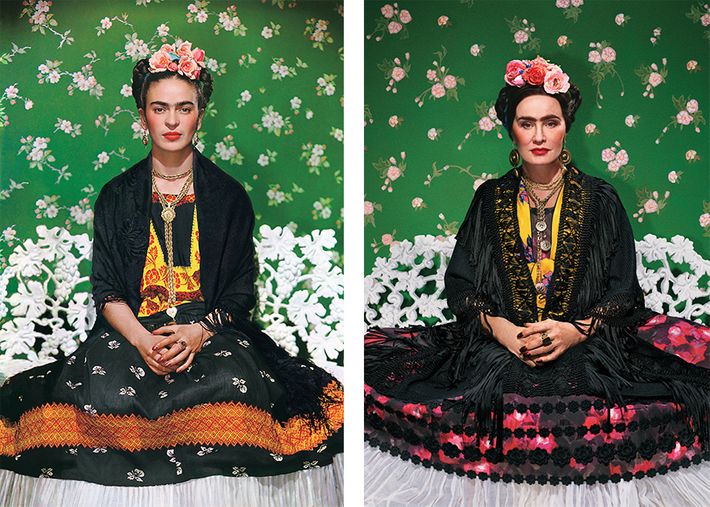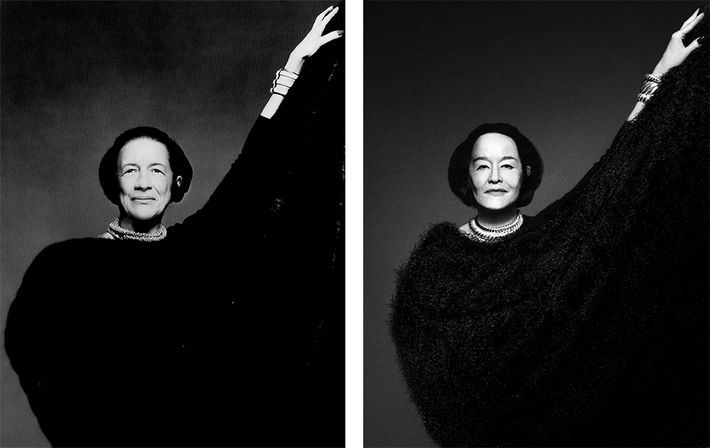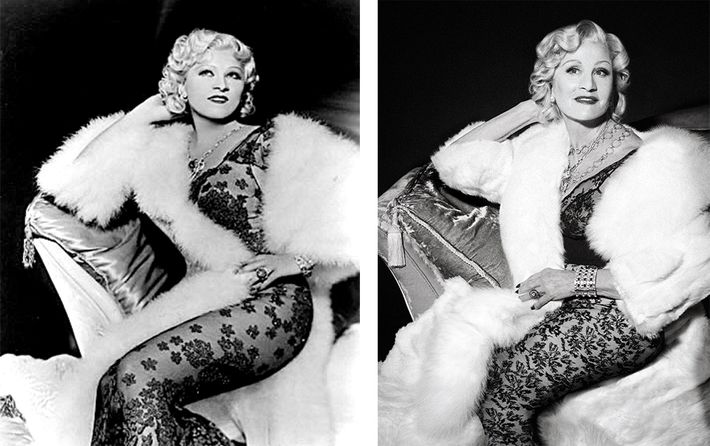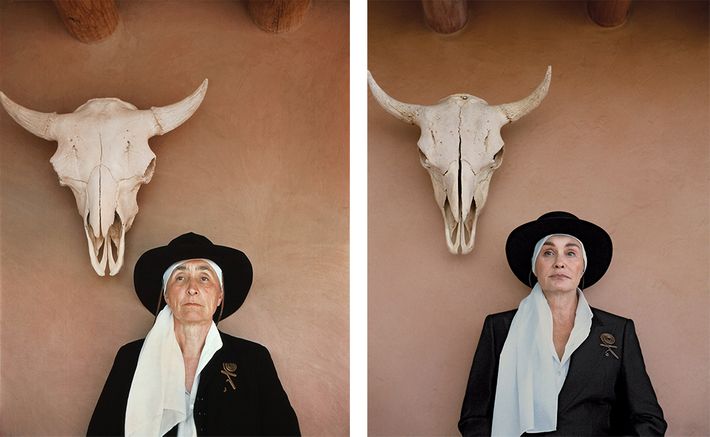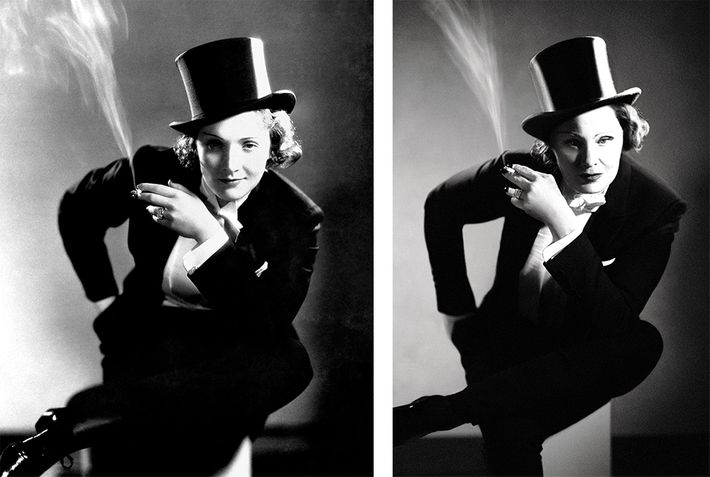 *This article appears in the February 6, 2017, issue of New York Magazine.