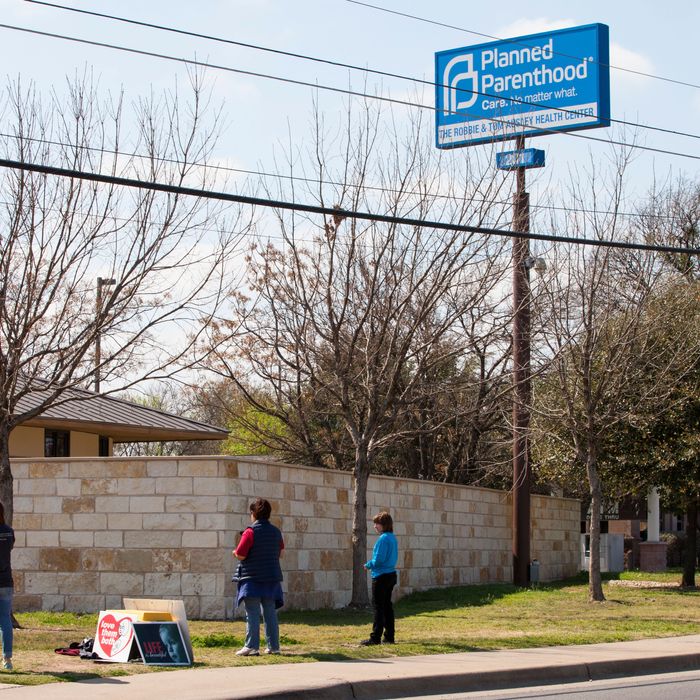 Photo: Melanie Stetson Freeman/Christian Science Monitor/Getty
A federal judge in Texas ruled that the state cannot cut Medicaid funding from Planned Parenthood's clinics. District Judge Sam Sparks delayed ruling on the matter in January, but he issued a preliminary injunction on Tuesday, effectively halting Texas's plans to cut Medicaid dollars from Planned Parenthood. In his opinion, Sparks wrote that the state did not present "any evidence" that would warrant cutting off funding. Instead, health officials "likely acted to disenroll qualified health care providers from Medicaid without cause," he wrote, according to Reuters.

Sparks, a George H. W. Bush appointee, also admonished the state for its actions based on unsubstantiated claims. Per the Associated Press, Sparks wrote:

"A secretly recorded video, fake names, a grand jury indictment, congressional investigations — these are the building blocks of a best-selling novel rather than a case concerning the interplay of federal and state authority through the Medicaid program. … Yet, rather than a villain plotting to take over the world, the subject of this case is the State of Texas's efforts to expel a group of health care providers from a social health care program for families and individuals with limited resources."
The state first made its threats to cut funding in the fall of 2015, following the release of undercover videos filmed by pro-life activists. The highly edited videos purportedly showed Planned Parenthood staff discussing the sale of fetal tissue, which is illegal. An investigation, however, subsequently cleared Planned Parenthood of any wrongdoing and the case sat idle until December, when the state formally made the final move to cut Medicaid funding.
Planned Parenthood later filed a suit claiming that the effort was part of "a politically motivated witch hunt and the culmination of a concerted effort over more than a decade to come between the Provider Plaintiffs and the thousands of low-income patients they serve for a variety of family planning and sexual health needs." Planned Parenthood says that it services nearly 11,000 patients who rely on the public insurance program. And, since most Medicaid recipients have very low incomes or no other insurance options, eliminating Planned Parenthood as a provider would negatively affect some of the state's most vulnerable.

Texas attorney general Ken Paxton said the state intends to appeal the ruling.