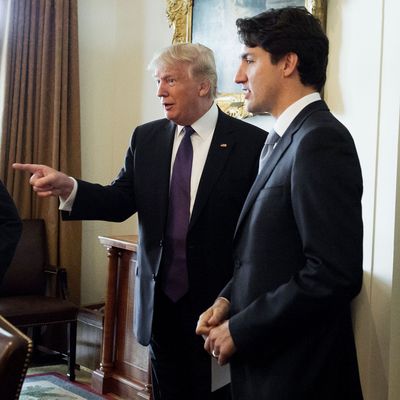 Trump and Trudeau hung out on Monday.
Photo: Saul Loeb/AFP/Getty Images
On Monday, human sunbeam Justin Trudeau met with Donald Trump at the White House to talk about women in the workforce. According to the Associated Press, Trudeau's office — which has stressed gender equality in its economic platform — reached out to Trump's team to suggest the meeting, saying it "seemed like a natural fit given their commitments in their platform as well." Together they're set to launch a task force that rolls off the tongue: the United States Canada Council for the Advancement of Women Business Leaders-Female Entrepreneurs.
And, because Trump's answer to any question about women's issues is "Ivanka," the First Daughter was there, too. She was "involved in recruiting participants and setting the agenda for the meeting," a White House official told the AP. And she doubtless had a hand in developing the portion of Trump's economic agenda the official said includes a "focus on ensuring women enter and stay in the work force and addressing barriers facing female entrepreneurs." The meeting included such high-level female executives as General Electric Canada CEO Elyse Allan, TransAlta Corp. CEO Dawn Farrell, and Linamar Corp. CEO Linda Hasenfratz.
Although Ivanka doesn't have a formal role in her dad's administration, she's said she wants to "fight for" things like wage equality, child care, and "really promoting more opportunities for women," which she says is "very important" to her.
In the flurry of activity that followed his swearing in, Trump did relatively little to address women — unless you count reinstating the Global Gag Rule, which restricts abortion access for women around the world. His cabinet remains disproportionately white and male, and despite reports that Ivanka is calling lawmakers to discuss child-care legislation, no bill of that nature has materialized.
Maybe "Justin" and "Donald" can get the ball rolling.