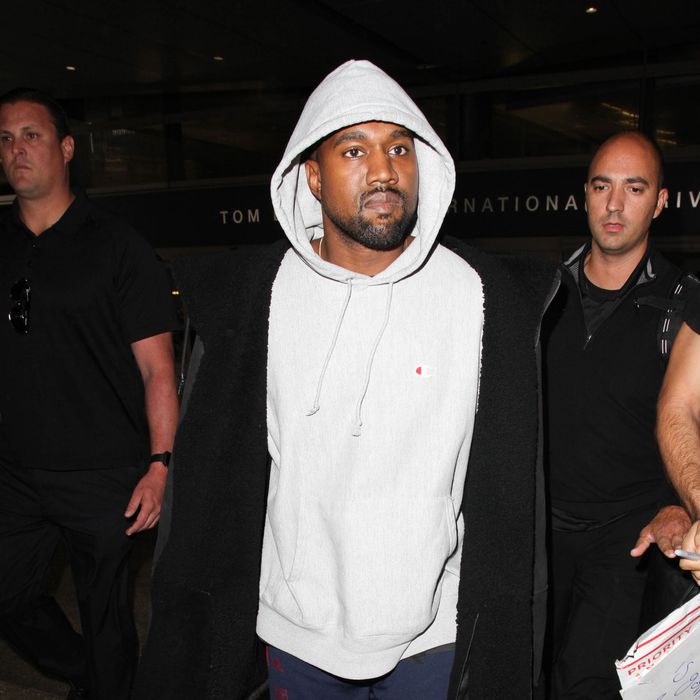 Kanye West decided to make nice with CFDA.
Photo: starzfly/Bauer-Griffin/GC Images
Kanye West has rescheduled the Yeezy season five show for an earlier hour in the day that won't cause scheduling conflicts on the Fashion Week calendar, which is maintained by the CFDA. His announcement, reported by Women's Wear Daily on Thursday evening, comes after CFDA president and chief executive officer Steven Kolb made it clear that West's earlier showtime wasn't sitting well with fashion industry leaders. The new time slot is on the same day, February 15, but it's now happening at 3 p.m. instead of 5 p.m., which would have overlapped with Marchesa's slot on the Fashion Week calendar.
When the hour for the Yeezy season five show was announced, Kolb said West's scheduling was "disruptive to the whole week and unfair to designers who have secured spots through the formal procedure," since it had been made without their consultation. As a result, he said that the show wouldn't be advertised on the official calendar. Now, though, the two parties seem at peace with one another. In fact, West apparently didn't even know that his original showtime was causing quite the kerfuffle. "Kanye called me personally to let me know that he had no intention of showing on top of another designer, and was unaware that there was a conflict," Kolb said in a statement, according to WWD.

Seems like all is resolved — for now.