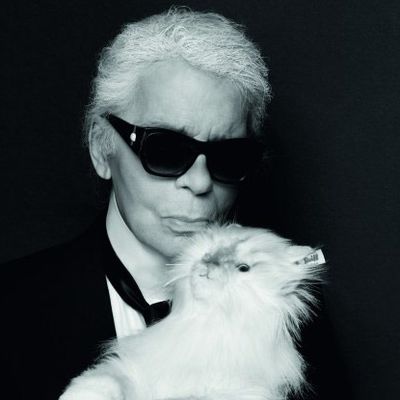 Karl Lagerfeld and an imitation Choupette.
Photo: Karl Lagerfeld
It's no secret that Karl Lagerfeld is in love with his cat, Choupette, whom he boasts is "the most famous cat in the world, and the richest" (she did reportedly make €3 million in 2014). Choupette has two maids who chronicle her every move, owns an iPad and a Dyson Supersonic hairdryer, inspired a capsule collection — and now, she'll be getting her very own stuffed-animal replica.
WWD reports that German company Steiff has collaborated with Lagerfeld to create the limited-edition Choupette plush toy, which will retail for €499 ($538). The 2,000 available Choupette replicas will be exclusively sold at Karl Lagerfeld stores and on his site in May, though it will expand to Steiff and other retailers afterward.
Here's what Lagerfeld had to say about the toy in a statement:
"Choupette is such a famous and beautiful cat that when this request came to me, I was not even surprised. Steiff is the perfect choice for this kind of collaboration. It's the only company that has the required expertise to highlight the extreme and absolute refinement of this young princess."
As a colleague pointed out, if you'd prefer to not spend upward of $500 on a stuffed cat, there's a pretty similar bargain version for sale.