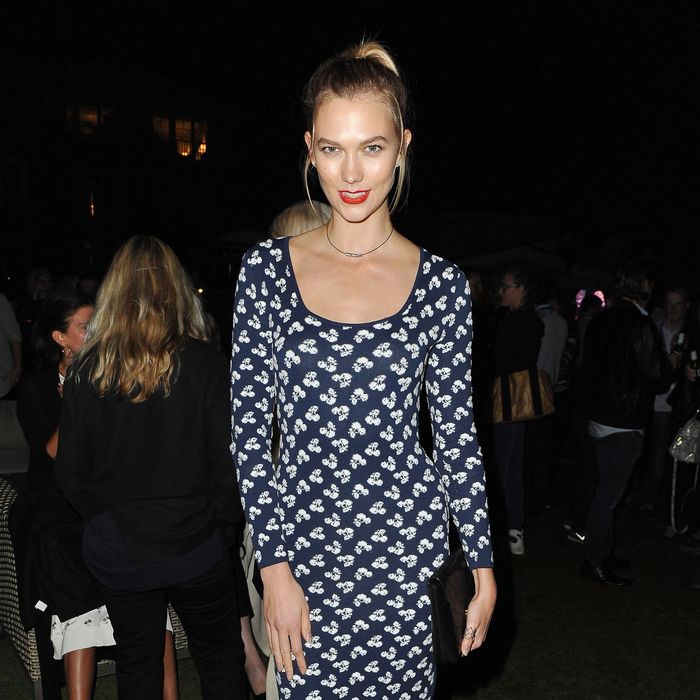 Photo: Jerod Harris/Getty Images for Dow Jones
Let the record show that Destiny's Child gifted us with many a great song during the late '90s and early 2000s. Who can forget the sassy "Say My Name," the anthemic "Survivor," or the playful "Bootylicious"? Not us — and certainly not any fan of Beyoncé, since Queen Bey was a part of the R&B group at the time. Unfortunately, for all the wonderful songs the group gave us, there is one musical number that is most definitely not by Destiny's Child (or any early incarnation of Beyoncé): "Waterfalls." The No. 1 Billboard song from 1995, "Waterfalls" is one of the many hits from the iconic trio TLC. In fact, it's often considered their signature song. Yet Karlie Kloss, a self-proclaimed Beyoncé fan (and by extension, a Destiny's Child fan) misattributed TLC's hit to Destiny's Child. As you might've guessed, the Beyhive isn't letting it slide.
Fans spotted the error on a Q&A form that Kloss filled out for Love magazine in the U.K. In response to a question about whom she is the biggest fan of, Kloss writes "BEYONCE." She notes Bey's swag and confidence as traits she admires, and writes that she's been a fan ever since Destiny's Child was around. But she stumbles when answering the question of how Beyoncé influenced her. Her answer? "She is the soundtrack to my LIFE! … C'mon, Waterfalls?!"

Ah … so … so far away.

That Kloss confused two music groups from the '90s consisting of (for the most part) three black women might give some pause. Kloss, though, has already acknowledged the error in her own way. In response to a tweet highlighting her mistake, she tweeted out an emoji of a monkey hiding its eyes. Same, girl. Same.