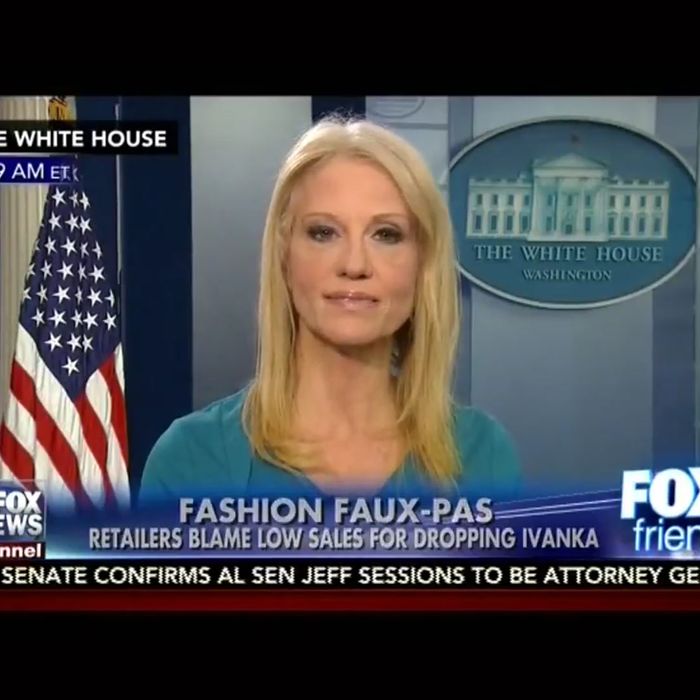 During a Thursday morning Fox & Friends interview, counselor to the president Kellyanne Conway told viewers to buy products from Ivanka Trump's clothing line.
This comes the day after Donald Trump tweeted angrily at Nordstrom for dropping his daughter's line, writing that she had been "treated so unfairly." Conway referred to Ivanka as a "champion for women empowerment, women in the workplace," before adding, "Go buy Ivanka's stuff, is what I would tell you. I hate shopping, and I'm gonna go get some on myself today."
Nordstrom announced that it would no longer be carrying Ivanka Trump products the week prior, with Neiman Marcus following suit shortly afterward. Both luxury-department-store chains cited low sales, an indication that perhaps the #GrabYourWallet boycott against Trump products was effective. (T.J. Maxx and Marshalls employees were also reportedly told to throw Ivanka Trump signs in the garbage.)
In endorsing Ivanka's line on air, Conway may have violated a law for federal employees which reads: "An employee shall not use his public office for his own private gain, for the endorsement of any product, service or enterprise, or for the private gain of friends, relatives, or persons with whom the employee is affiliated in a nongovernmental capacity, including nonprofit organizations of which the employee is an officer or member, and persons with whom the employee has or seeks employment or business relations."
Ivanka had previously said she would be stepping down from her label when her father became president.
Update: During his Thursday press briefing, press secretary Sean Spicer was questioned about whether Conway crossed an ethical line with her comments. He replied: "Kellyanne has been counseled and that's all we're gonna go with. She's been counseled on that subject and that's it."